It's July?!? What?! What are you all up to? I hope you are having lots of fun this summer. The weather has turned warmer here, and I am happy. It was 95 yesterday, and it is supposed to remain that way through the weekend. I can't wait for the 4th of July, it is my favorite holiday.
We had a wonderful week, Mark's mom, dad and sister came to visit us for 5 days. We showed them all around our beautiful state of Oregon. There is so much to see and do here, it is hard to pick just a few things. They have been here before, so they knew what they wanted to see. We took them to the Columbia River Gorge, beautiful scenic drive looking over the huge Columbia river.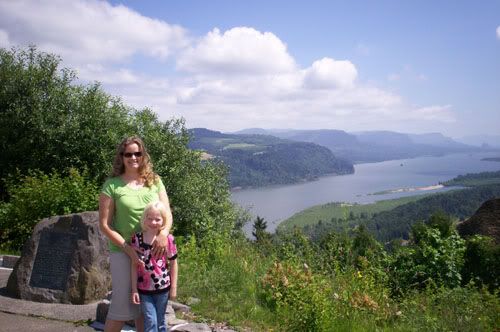 Jessie is confused, she can't see out of the telescope!!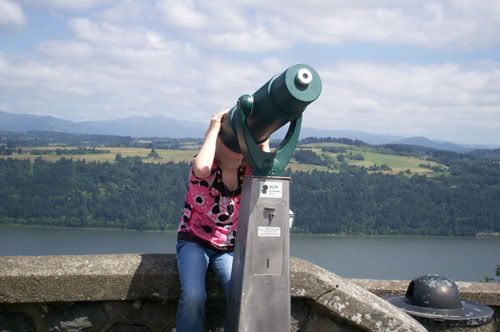 We took them to the Tillamook Cheese Factory. Yum!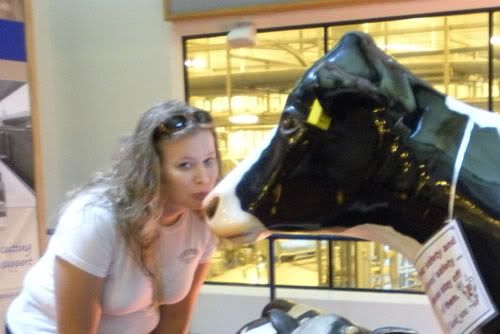 Of course the beach had to be visited, so we drove up through Cannon Beach to have some lunch and then went to Astoria. By the way, you Goonie movie fans… we stopped at the Goonie house and Curren even did the Truffle Shuffle! Love it!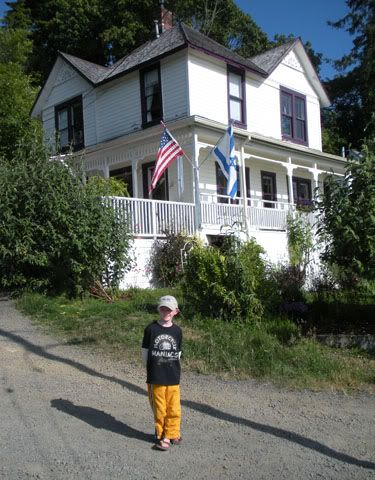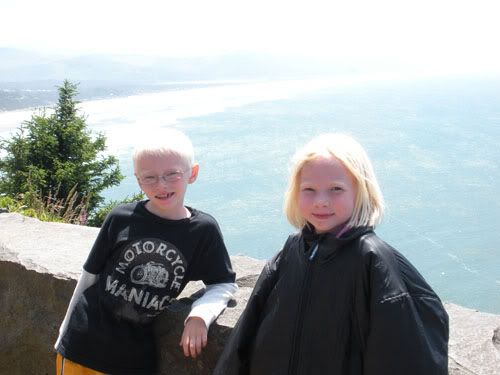 And the Rose Gardens were a must see for us girls. The boys stayed home and hung out in the garage. Too bad for them. Don't they know you are supposed to slow down and smell the roses??
My sister in law Emily and I made a
flag cake
, we used the recipe from Pioneer Woman. It was divine, you must make it. Though, you'll gain a few pounds just by looking at it. The frosting was pure butter and cream cheese. Go and make one right now!
There was so much to do, and so much to talk about. Mark's mom was in the car with me during the drives and it was great to catch up and talk to her. I get along with her so well. She is doing so much better. Last year at this time she suffered a very bad heart attack. We are so happy to have her with us. She is a cross stitcher and quilter too, so we got to go shopping! I love having shopping buddies.
I don't have much to show you for quilting or stitching. I have been working on Shores of Hawk Run Hollow again though. I am about half way done with the big center block with the ship. I hope to work on it more this weekend. I'll post photos next week of it.
So, when are you all coming to visit? I hope I've convinced you that Portland is a fun place to see. My fellow Americans, enjoy Saturday and celebrate our freedoms, we are so blessed to live in the United States of America. Love to all!