School has started! Ignore me in this photo, I wasn't ready yet...
Grandma visited, and we had a wonderful time.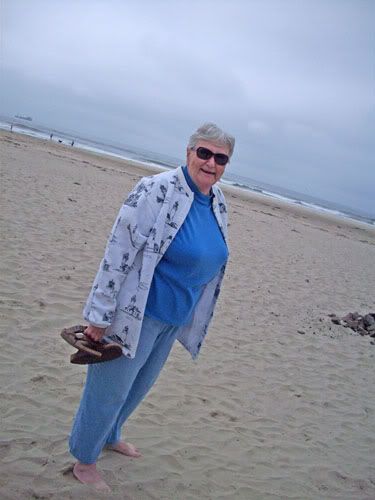 Mark and I have been married for 10 years now, woohoo! We will be going on a trip next month, more details later...
Life is good. Fall is "in the air" right? I am ignoring it, and pretending it's July right now. We have more visitors coming, Mark's brother Mike and my sister Nikki with her baby Lily.
I managed to get the little red & yellow baby quilt done. I am calling this the surfing quilt, the red and yellow fabrics have little stick surfer dudes all over them. I was a good girl and used up even more stash. I pieced some left over flannels for the back, even the batting was pieced from odds and ends. Here it is out of the washer and all ready to use!
The Winter White Schnibbles has begun, and it'll be so cute. Jessie has dibs on it, she likes the snowmen. I start teaching the quilting class at church in a few weeks, and I can't wait for that. I love getting even more people addicted to quilting, it's my favorite thing to do.
On Labor Day we did a last minute trip to Indian Beach, our favorite beach around here. It was a beautiful day. We went with our awesome friends, all of the kids had a blast.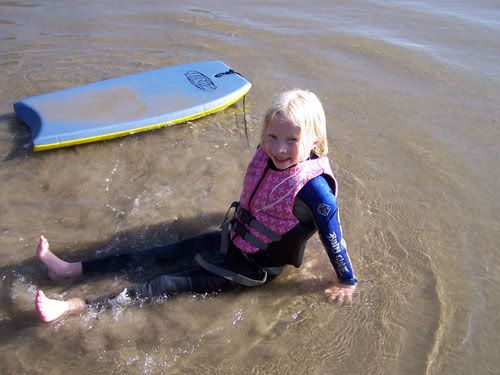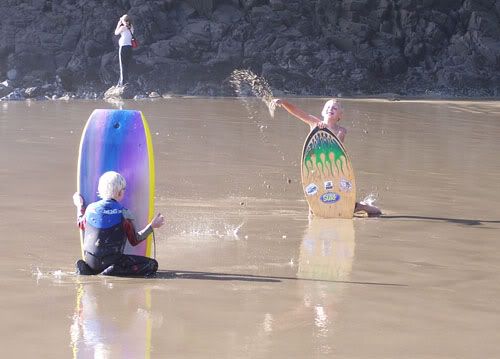 Summer, I'm going to miss you!