Long time, no post. My house is still being "remodeled" which means I have not had my normal scheduled time to sew lately. I've been busy cross stitching instead! The year is almost over, and I've come pretty far on Shores of Hawk Run Hollow. I am really enjoying this, and will be sad when I finish. Can more blocks be created for it? :D Anyway… I finished the cute red house block. I am well into the glass bottle boat block now. I see myself finishing this block in December.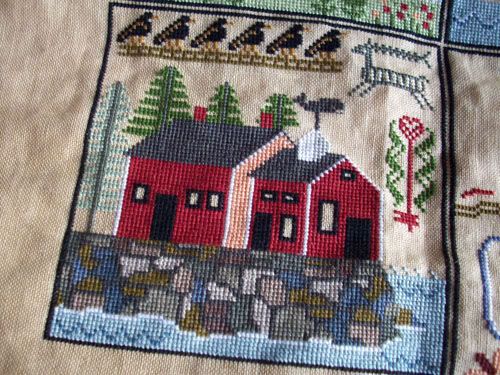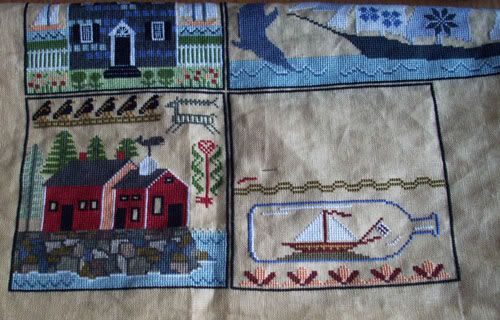 If you want the details on this project, I started it in January of 2009. I am stitching it on 32 count linen, and using DMC threads. If you plan on stitching this someday, I recommend using DMC because there is so much thread on this, and the silks are so expensive. The DMC threads are really vibrant and bright. I have had to go to JoAnn's often to buy more DMC for this project. I do think the silks would be very beautiful on this, but the cost, I just can't bear it. I suppose in the end it's a personal decision :) What are your thoughts on silks vs. DMC?
For the month of November the Schnibbles quilt pattern was "Picnic". I wasn't too in love with it after I finished it. It is growing on me though, and Jessie is in love with it… so she can have it. If you haven't been over to
Sinta
or
Sherri's
blogs to see the parade, get your buns over there and check it out! There are some very pretty Picnic quilts to see.
I was so excited last night, I found out I had won one of the giveaways (YAY!!!) I won the December Schnibbles pattern which is the Tuffets, and a charm pack from
The Quilt Shoppe
. This will be a really fun month, and I love making these little cushions for gifts. Look at how cute they are.
Christmas is right around the corner. My house is not decorated AT ALL. It's decorated with hammers, nails, sand paper and paint. Look at what Mark the Awesome Husband has done to my kitchen.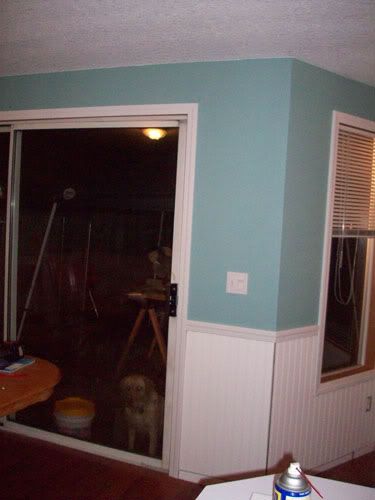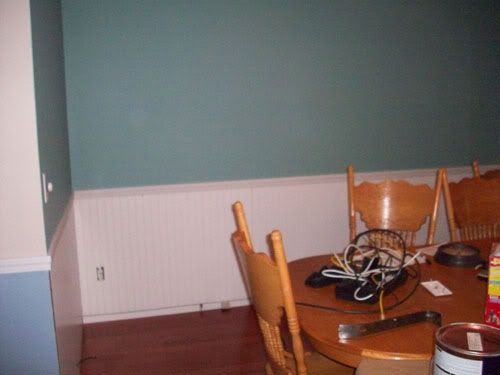 The color of the walls makes me smile every time I walk in there.
So, we'll see if I can get any decorations up this month. For an early Christmas gift to our families I had the kids get their photos taken by my friend Jen Korth. She was visiting her old stomping grounds from Utah and we were able to have a photo session. She takes the most amazing pictures of children. I about died from the cuteness of them. What do you think? Are they not the cutest kids you've every laid your eyes on? (I am biased, of course).
Have a wonderful December!!! I hope you get to see your families and enjoy your friends. Love to you all :)