I finished the Hydrangea Garden quilt on Saturday afternoon, washed it and brought it to my former babysitter. Nan watched my kids for me for over three years, and was just awesome with my kids. I started it over a year ago for her, and put it way to work on other things, I finally finished it. It's not very big, a lap size. She loved it and declared she use it every night while watching TV. I was so glad she liked it!!
Jessie had a friend over to play so she got to be in the picture too :)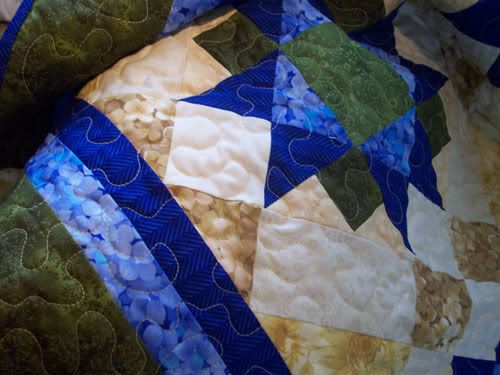 This is one of those quilts that I did because I fell in love with some fabric I found at a quilt shop. I found the blue hydrangea fabric on a shop hop I went on, and a magazine I had, it all just kind of came together. The pattern is called Victorian Garden, and it's from the Fons & Porter magazine dated Jan/Feb 2008.