What a day! Did you watch the Canada vs. USA hockey game for the Gold??? It was a really excellent game. Canada pushed so hard in OT they really went for it. It was fun to watch! My house is now full of kids playing Super Mario Bros. on the Wii. So, I am hiding out on the computer for a bit.
I started two new quilts this weekend. One I won't show, it's for a wedding gift for my friend. It's really pretty though, trust me :) The other quilt is for a baby present. I have been wanting to do a aqua/orange baby quilt, and finally am :) Here is what I am doing, the quilt is from the Spring 2010 Quilts & More magazine. I'll be making a smaller version of it.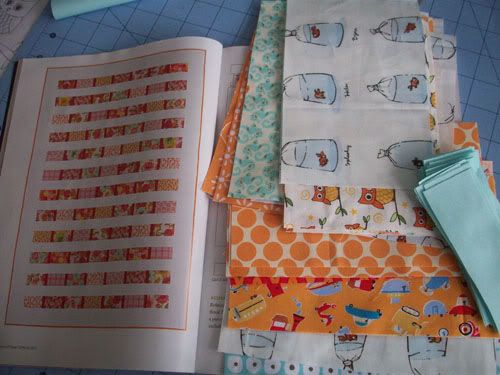 I found the drawing on the table, Jessie must have really liked the owls!
Also, I've been stitching, here is my progress on Plant the Seeds by Sam Sarah.
I'm going to go and sew some more! See ya!