I am glad that it is February, it means we are that much closer to March and spring. Winter in Portland is not very pleasant. It's constantly overcast and raining. It kind of depresses me and so, I have been just feeling *blah* Do you ever get that way? I am in "feel sorry for myself mode." Here are the few things I've made progress on in the past week.
First up:
Shores of Hawk Run, the last block. The fishes are going to take awhile, but it's getting there! I need to get more movies to watch so I can finish this up…
Second up: The Spring Star quilt I am working on for quilt class. I hope to get this started with my class at the end of the month. Wish me luck in getting this top finished.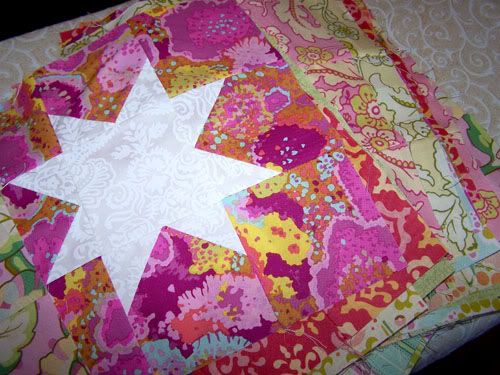 Third: Finding some new cross stitch projects to start when Shores is done. Can you tell I am excited to be finished with Shores? As much as I adore working on it, I am feeling ready to start something new…
In trying to cheer myself up, I made a list.
Things to look forward to this year:
We planned a vacation to West Virginia this summer, tickets are purchased!
Sisters Quilt Show is coming up in July, I have reserved a house and even signed up for a class and have invited 8 of my friends to come with me (
so awesome
).
The Lion King on Broadway is coming to Portland and I am getting tickets to see it, my kids will LOVE it. (
I didn't go to Wicked last year and am kicking myself for missing it
).
I am doing some exchanges this year with friends.
***What the heck do I have to complain about???***
nothing