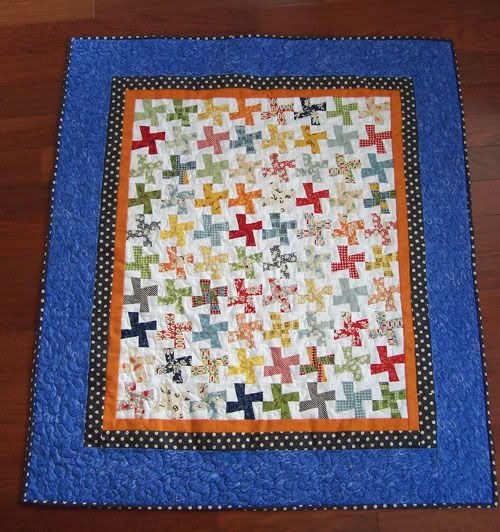 I have another finish, woohoo! This quilt is from the pattern called
Pint Sized
, by Camille over at
Simplify
. I had one charm pack of Wee Play in my stash, and dug around to find the borders and backing too. I am happy to have this completed. I really like the looks of these pinwheels, they are fun. Also, it took a long time to make these little blocks, they are only about 4" square, and you have to cut, sew, press, cut again, etc. It was time consuming to make, not a quickie. I don't mind that though, but in case you want to run out and make one right now (like I did!) then be aware :D Camille also has a pattern that uses the same block, only bigger and it is called
Wild Thing,
I have that pattern too, and I am sure it goes together quicker than the "mini" version that I did.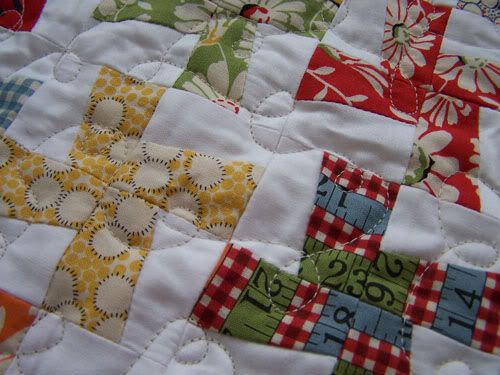 I did find another
tutorial
for this quilt block here if you are interested. The blog is
Two Dogs & a Quilt
. Let me know if you make one, they are super cute!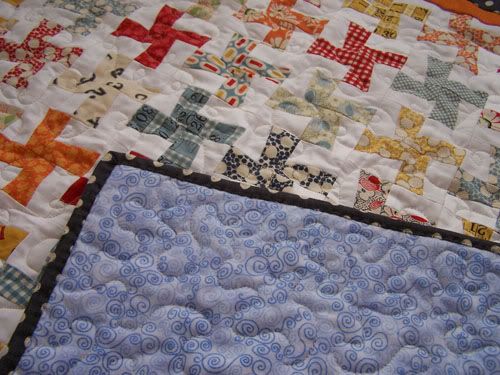 In other news I've been listening to podcasts for Quilting. Who would have thought? I have really enjoyed them too. I have downloaded several, and have found I like these two the best:
Annie Smith
with Simple Arts. Annie has been doing this for 4+ years, and is good at it, she's got it down. I like her approach to talking with quilt shop owners, designers, and teachers. She lets them just talk, and it's neat to hear how they approach quilting, such a huge variety of people. You'll love her!
And
Pat Sloan
with
Creative Talk Radio
. Pat just started hers up a few months ago, and I love her! She has had some awesome quilters on her show that I have learned a lot from. Pat is fun, and really keeps it fresh, with what is new in the industry.
I went to my Itunes and downloaded all of their episodes, and have been listening in my car, or on my walks. Let me know if you have any favorite podcasts, quilting or non quilting.