I hope you all enjoyed your Easter holiday. We were able to spend it with our good friends, which made it extra nice. The weekend was productive for me because it rained constantly, and we had nowhere to be.
I actually finished another cross stitch. I know, I have not been stitching as much as I used to :) I finished this up while watching Extreme Makeover Home Edition… it was hard to finish it because I was crying so much. That show always gets to me. The chart is by Sam Sarah called Plant the Seeds. I like the cute buttons on it.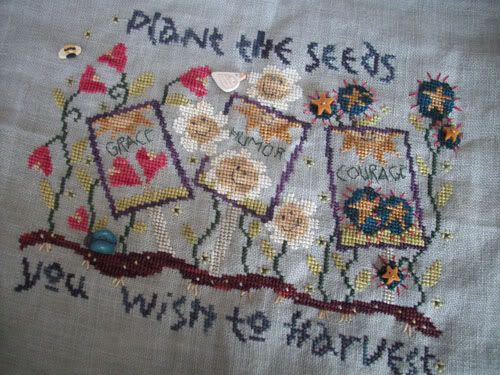 I'd like to give this chart away, so if you are interested please leave your name and email, I'll draw a name next week for it :)
Katrina
gave this kit to me as a gift, and so I'll send it on.
What is the next project I plan to start? I can't tell, it's for an exchange.

So, I am counting down the days until summer. Mark and I went out on a date Saturday night, and stopped by REI. While he was looking at knives, I checked out their books. I found a great hiking book for Oregon. I have plans you see, plans of hiking every weekend through the wilderness around here, and I am totally excited. I bought the hiking book, found an empty notebook and started writing down the hikes I found interesting. All of them are shorter 2-6 mile hikes, because I plan on dragging my kids along for the fun. Now, it just needs to dry up around here so we can get out. That won't be for another month or two though. *sigh*