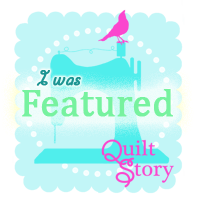 I was contacted by Heather at Quilt Story to feature one of my quilts, please go and check out their blog, it's really fantastic! Thank you again for allowing me to be a guest there, you are awesome!
Things are moving right along over at my house. My sister asked me to quilt her top that she left here back in March. I finally got it quilted for her and mailed it back. She made the same quilt that I had taught at church class. The pattern is from CrazyMomQuilts, Amanda Jeans blog. Nikki likes thematic quilts we've discovered, this quilt is all fruit and veggie fabrics, with black sashing.
I quilted it using a variegated rainbow thread, cool effect right? I like it.
Also, the June
Schnibbles
quilt is called State Fair. I didn't have charm packs in my stash I liked, so I picked out some of my cute and fun fabric yardage to use for it.
I've got it all cut out, now it's time to piece :D Be sure and check out
Sinta
and
Sherri
's blogs to see May's Schnibbles parade, there are some really cool quilts!