The Schnibbles a month is winding to a close. I've made 1 every month for the past 11 months, that is a lot of little quilts! The final month you get a choice between the patterns "Short Story" and "Plan C" It so happens I've already made "Short Story" awhile ago, long before the monthly quilts were being made. I was waffling on not making another quilt since I'd already made one. Then I thought that wouldn't be right because everybody else if making one, and I haven't made the "Plan C" quilt yet anyway. And I love starting new quilts… so there you go.
The fabric I chose is Eva by Basic Grey. I had two pretty charm packs in my stash for awhile, and I started cutting it out last night. Purple, Pink and Green, all very pretty and something I normally wouldn't choose, but since these Schnibbles are so small, it's fun to try new things. Let's see if I can get this done in time.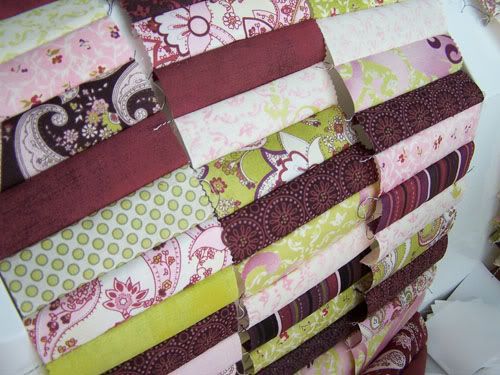 My sister was here for two weeks. We played hard, and went everywhere, but at night when our kids were sound asleep we sewed quite a bit. Nikki tries to sew, but it's hard for her with a one year old running around! She is making a braid quilt with a jelly roll she purchased last time she was here (in March). She got all of her braids done last night, yay!
She is using the pattern from this book. I love this book, a lot. Have I made anything from it yet? Nope. Have my friends borrowed my book and made quilts from it? Yes, and lots of them. Oh well, I'll eventually cut into one of my pretty jelly rolls!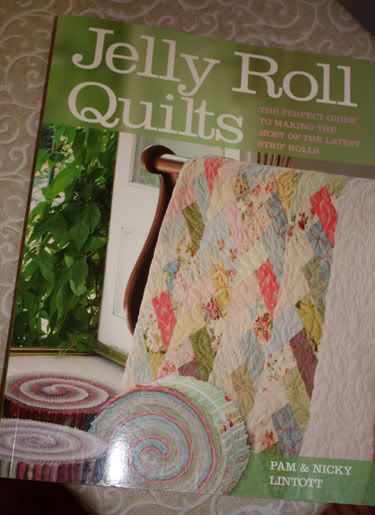 I got really lucky last month with the Schnibbles parade, I won the $50 gift certificate from The Fat Quarter Shop. I was in shock! Here is what I bought with the gift card... ooooh pretty fabric! What to make next...