I managed to finish the quilt top for the August Schnibbles quilt last night! I did it, all 12 quilt tops were finished on time in the past year woohoo!! *high fives all around* I know a lot of others were able to get them done too, and I give them kudos, it was hard getting them all finished, but really fun, I am glad I joined in on the process.
Here is Plan C. I used Eva charm packs. Eva is designed by
Basic Grey
and Moda distributes it. It's beautiful fabric, I love it. I picked these up at my favorite shop:
Hollyhill Quilt Shoppe
in West Linn. They do still have some if you would like to own the fabric.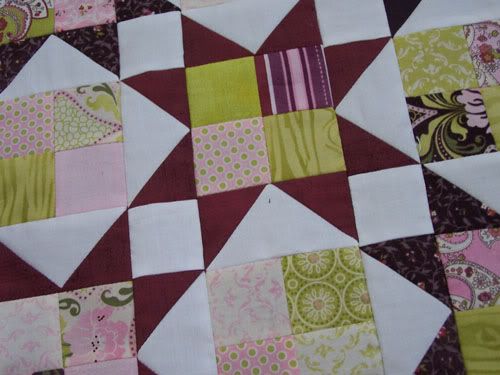 Thank you
Sinta
and
Sherri
for planning this whole thing out, I can see it was a lot of work, but I sure do appreciate it! Be sure and visit their blogs to see the "parade" on September 1st.
So, I now have a huge pile of quilts to work on. Several need to be quilted (they are already basted!) one needs the binding sewed down, other quilt tops are cut and waiting to be pieced. Off I go!