While surfing blogs, I came across a post on Cluck, Cluck, Sew. Have you been to this blog? It's so awesome, and I love the quilts that she makes, total eye candy.
She posted about a giveaway at Fresh Squeezed Fabrics, a fabric shop on Etsy. I decided to go ahead and enter the giveaway, even though there was a lot of other people that did too. I won!! There were close to 800 comments. Woohoo! Randi was giving away 10 fat quarters and one of the patterns from Cluck, Cluck, Sew called Skipping Squares.
I ordered some Castle Peeps fabric from her site. Look how FUN! There have been some adorable projects made from this fabric that I've seen online. I can't wait to use it up.
The giveaway was for 10 fat quarters, enough to make the quilt pattern. I chose 10 fat quarters from Holiday Happy. The fabric is designed by Monica over at Happy Zombie. Who is a fellow Oregonian! She lives in Astoria. Well, I got to meet Monica at the last Portland Modern Quilt Guild meeting. She was super duper nice. Look at this cute fabric, awwww!!!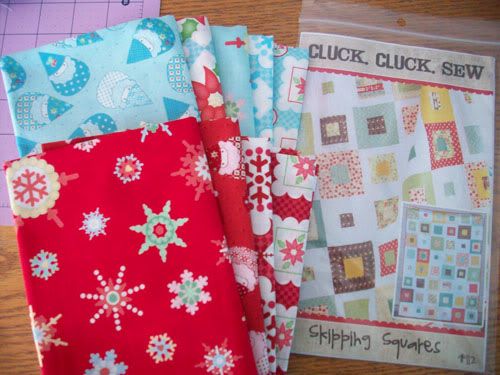 So many quilts to make, so little time. *sigh*