I couldn't help it, I pulled out the hexagon quilt along project I started, and haven't touched all summer. I paired the strips, and sewed them together on Wednesday night, and got most of them cut out. I finished cutting them on Thursday. So, now it's all about the layout of the blocks, there are several that I like. But… I cannot decide to save my life. What do you guys think?
Since the fabric has busy prints on it, I was leaning towards this one.
This pinwheel one though?? Too cute.
I am using Heather Mulder Petersen's book called: Sizzlin' Sixties. It has so many great quilts cut from a 60 degree ruler! You can use Jelly Rolls to make these quilts, awesome. Julie over at Jaybird Quilts started this whole hexagon quilt along. It's her fault! If you are wondering what fabric this is. It's called Plume, designed my Tula Pink. It's pretty and bright. The solid I am using is an off white. I was thinking of getting some light creamy yellow, or a light aqua, but I won't. I need to use what I've got and not buy more :)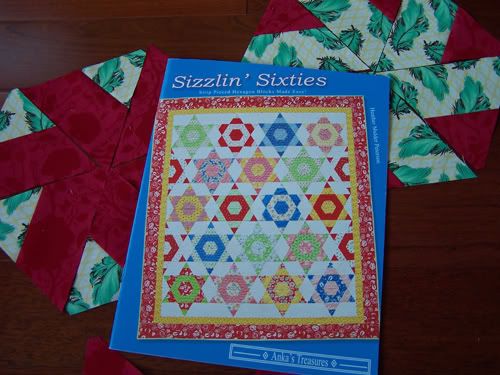 Jessie took over after I was done and made lots of designs of her own :)