This month I've been working on a cross stitch (shock!)
Here is my progress on Bent Creek: Snapperville so far.
It's coming right along.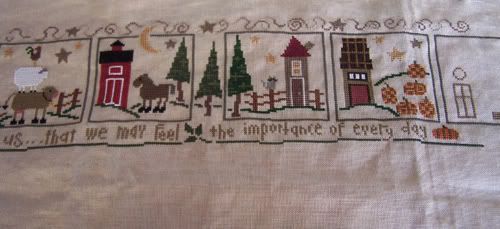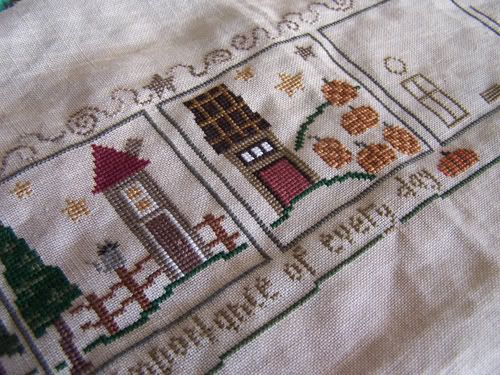 I've also been quilting my little Schnibbles Joy Luck. This little Halloween quilt needs to be done before Halloween. I'm trying some fancy-schmancy free motion quilting on it.
The Hexagon quilt has 3 rows completed. These triangles are a pain to work with, but the result is pretty cool don't you think? It took me an hour to do ONE row. I got to be best friends with my seam ripper, holy moley! That's okay though, we all have to learn sometime haha!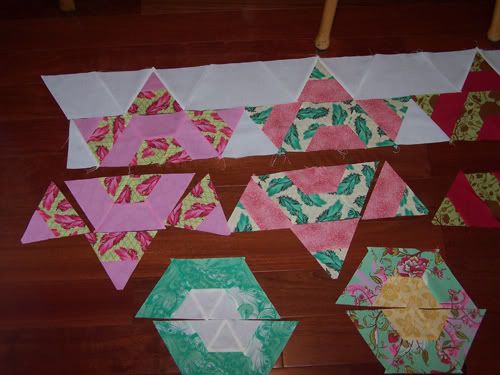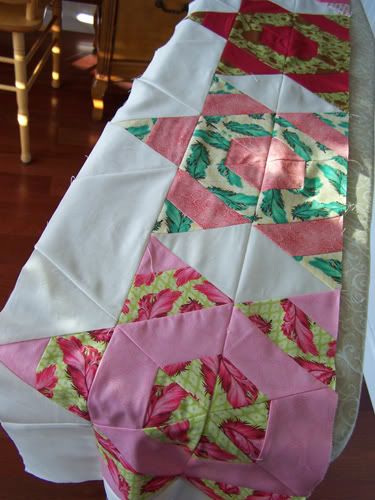 I have basted my second "quilt from my stash" quilt also, that is patiently waiting for me to quilt it. Sorry I don't have a pic of it right now.
And I wanted to say Thank You to Denise of "My Life in Quilts". She chose my blog for the Sunshine Award! Awww! How nice. I'd like to pass this on to some of my other favorite blogs as of late. Here are my regular reads if you are interested.
Posie Gets Cozy, Quiddity Quilts, The Sometimes Crafter, Suburban Stitcher, Oh Fransson!, Red Pepper Quilts, The Twisted Stitcher, Happy Zombie, LaVieEnRosie