Last December when the Schnibbles a month was pincushions, Carrie the designer at Miss Rosie's Quilt Company chose me as the "winner", and she sent me these two layer cakes.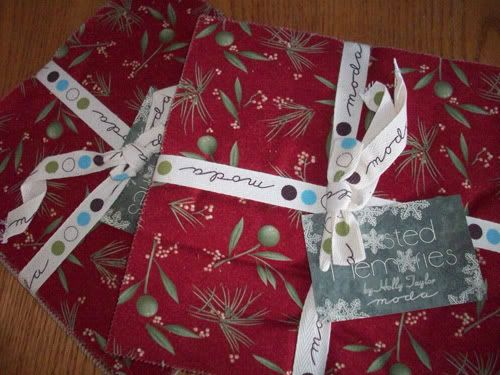 She is super nice like that, it was the funnest package to receive! I am making three quilts from my stash for Christmas gifts this year. I already made Quilt #1. So, these two layer cakes were used to make Quilt #2. A layer cake consists of approximately 40 fabrics, and are 10 x 10 inches square.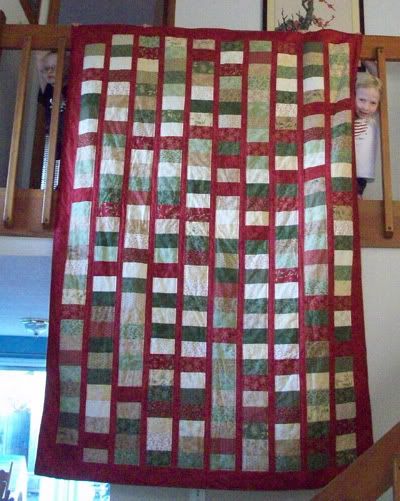 I had the red sashing/border fabric in my stash, and I was happy it matched so well. Reds can be tricky. I did have to buy the backing, a soft red flannel. Making a coin quilt is very simple, I used the whole 10" x 10" square, so there was no waste.
I machine straight stitched using my walking foot a quarter inch from the sashing. Also, I lengthened my stitches just a little from the standard used on my machine. It helped a lot. My machine fed the quilt through much easier, and the stitching looks neater too. I've never done that before, and I will from now on.
The size of this quilt is: 88" x 61"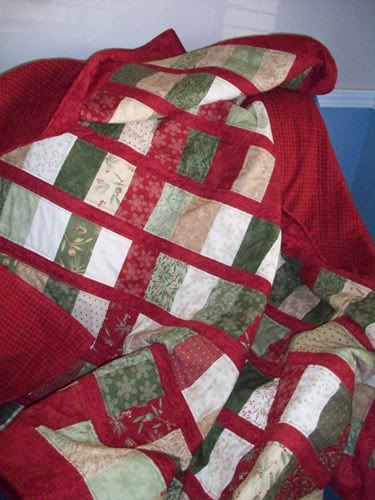 Okay, can you guys believe it is November??? Wow! We were all sick on Halloween unfortunately, my poor kids couldn't dress up and go trick or treating, I felt so bad for them. We are finally feeling normal again, and hope to start on some Christmas gifts this month. At least I have this quilt crossed off of my list. Quilt #3 needs to be basted and quilted, then I will have them all done.