Making quilts from your

stash

: Quilt #3
Magazines are one of my favorite things to get. They are full of inspiration, tips and ideas. I love my magazine stash! I've said before my favorite quilt magazine is Quilts & More. It's published by Better Homes and Gardens. You can't subscribe to it (darn it!), and it's quarterly. So if I see one I just pick it up. It has lots of simple quilts and fun little projects. Check one out if you can.
This magazine is dated Spring 2008: I was searching for ideas to make a two color quilt. Then, I happened upon this photo. I love this quilt, isn't it pretty?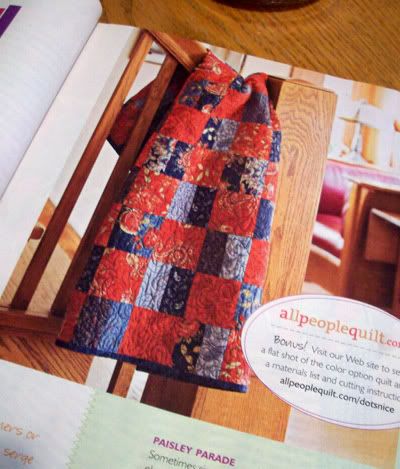 My chosen colors are cream and green. I have lots of the colors in my

stash

and wanted to use them up. Plus the recipient of the quilt would love these colors, it matches their newly remodeled basement. I pulled out the calculator and started figuring out how many squares to cut to make a twin size quilt.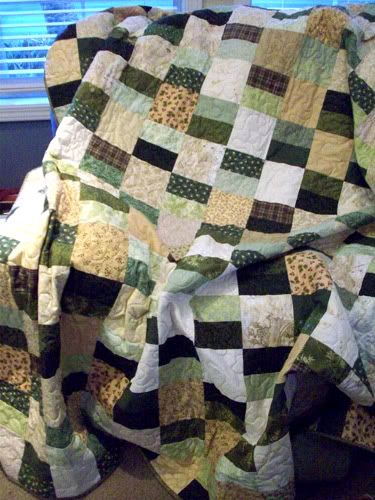 The green fabrics varied in value, lots of dark greens and light greens. I think it would have looked a little better if the greens had all been darker, but I still like how it turned out. There was no way I was buying more green!
The quilt size is: 80" x 80" So, yes it's bigger than a twin size. I don't ever make a small quilt… it's hard for me! I backed the quilt in a green flannel, and put some of my leftover tan flannel stash in the center strip. I stipple quilted it using my domestic sewing machine. The thread color is tan. It's really soft and snuggly.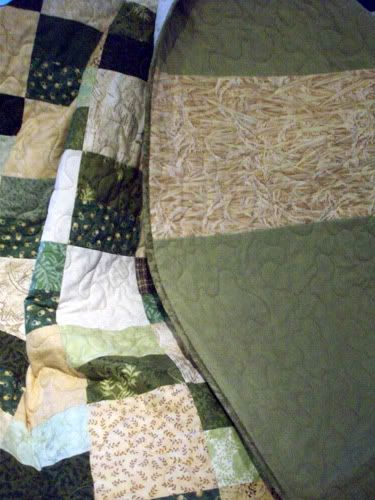 So, I got all 3 quilts from my stash completed in time to give as Christmas gifts, I am thrilled about that. It was a lot of work, but the people I am giving them to are worth it :)