Stella Blue construction has begun! I am starting with the many flying geese, there are three different versions of them, so I starched and ironed my fabric (for the first time!) and am getting the squares and all cut out.
I had to try out the "Fit to Be Geese" Ruler too, it does work nicely! Carrie has a
tutorial
of how to use the ruler. I had to sit down and re-figure the pattern to cut the flying geese out, because using the ruler requires different sizes of squares.
While cutting out strips to cut into squares, I took some photos of how I speed up the process, I am sure it's nothing new to many of you, but I found it helpful. I learned it while making a pattern by Eleanor Burns.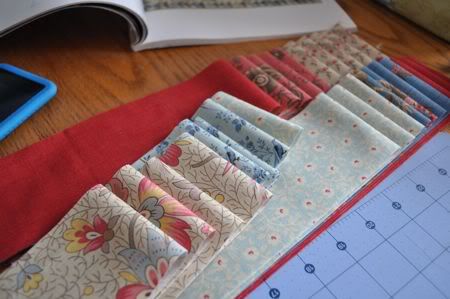 First you cut your strips, then lay them evenly out on your cutting mat.
Lay down your ruler and cut off the selvages. Line up your ruler to the size of square needed and cut through all of the strips. Repeat until the strips are used up.
And Viola! A nice stack of squares that were made quick!
Today is my son Curren's birthday, I can't believe he is 10 years old!! Tomorrow is my daughter Jessie's birthday, she is 9! Life is sure going fast, but we are having a lot of fun :)