My sister Nikki is having a baby boy! She is due to have him in the next few weeks, we are all so excited for her and her family. When we visited Colorado at the beginning of August, she was ready to have him then. Isn't the last month of pregnancy the hardest?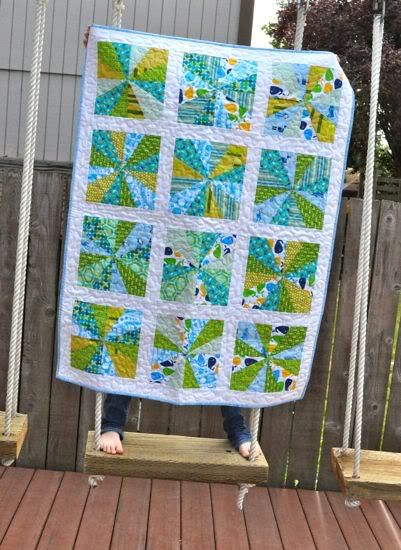 She asked me to make him a quilt for the crib. When I asked what colors, she said blues and greens. Woohoo! I love blue and green, and have plenty of it in my stash. I picked the pattern Rain or Shine from the book by Elizabeth called
The Practical Guide to Patchwork
. I made it smaller than the pattern since it was for a crib.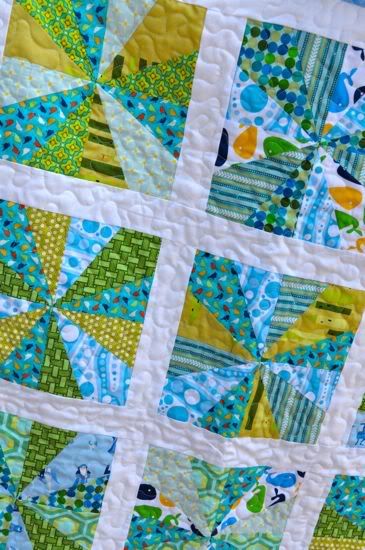 I put a lovely soft flannel on the back, and bound it in bubbles.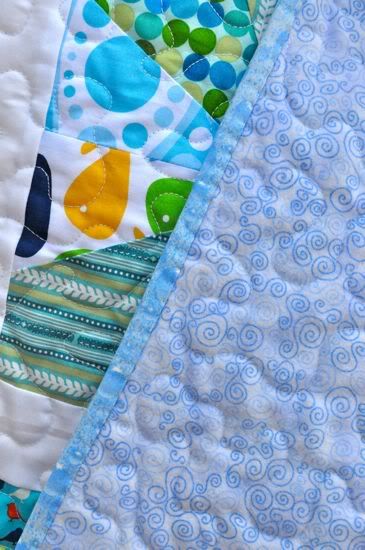 The colors are so vibrant and I even had a wonderful comment from my husband along the lines of "that is one of my favorites you have made!" Wow, thanks Mark. Can you believe he gave me such a nice compliment? I think he has been studying the
Husbands Quilter Comment Card
I have him haha!!
I also made her a minky quilt, we made one for her daughter Lilyanne and they loved it. So I had to oblige her by making another one. I love this stuff, it's just a mess to work with, you have to vacuum and dust after you make one, it makes so much fuzz.
Yay for babies!!