My wheels have been spinning lately, I have a lot of ideas and inspirations, however, no motivation! This week I've been trying to get back into it, but I think the warm weather is making me lazy :)
I have lots of plans for quilts, I thought I'd share, because all I have been doing lately is petting these stacks of fabric and doing nothing with them. Hopefully writing about it will get me going!
While I was at the Sisters Quilt Show we did quite a bit of shopping. The Stitchin' Post is such a nice quilt shop! I finally picked up the book City Quilts by Cherri House while I was there. I've been wanting it for such a long time. The book showcases quilt patterns using solid fabric. Since I was buying it, and the shop had such a nice variety of the beautiful Kaffe Fassett shot cottons, I picked enough out to make a quilt. Shot cottons are great, they are two-toned, the warp and the weft of the fabrics are two different colors giving it a very nice effect to the eye. (that sounds fancy huh? Haha!) Here is the pattern I will use: City Green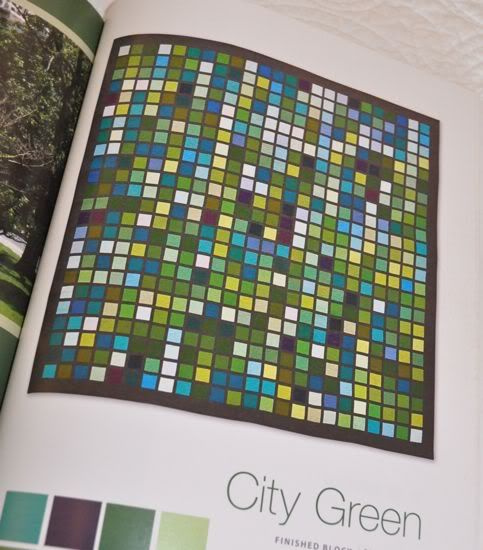 And the fabric, in blues and greens, and a nice black shot cotton for the sashing. I am drooling just looking at the fabric! It's going to be so pretty.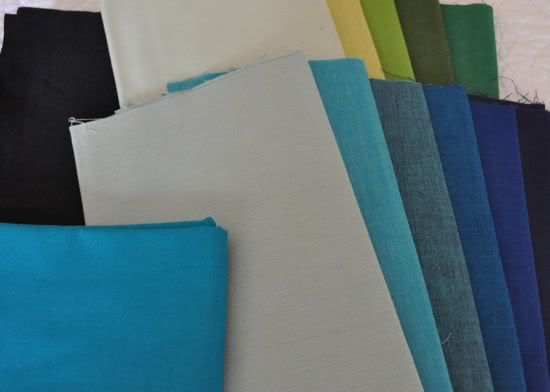 While visiting my family in Colorado my sister pulled out a stack of Christmas prints she's been collecting for awhile. I took them from her to make some tablerunners. I plan on giving them to her of course, unless I like them too much. I want to make several star blocks and put some sashing between them to make runners.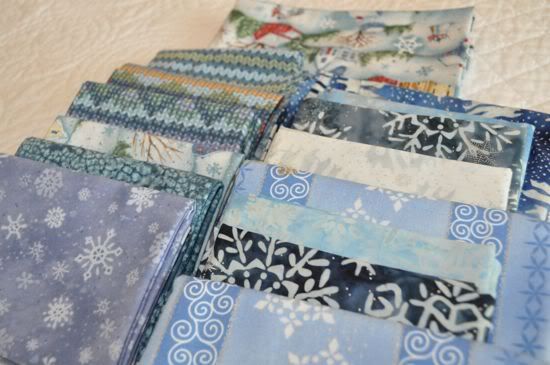 When I was at Hollyhill Quilt Shoppe with Barbara we were both standing in the Fig Tree corner of the store staring at the most beautiful displays. That is what happens when you are at Hollyhill, your jaw is open and you walk around mooning over the fabrics and displays. After we managed to get our wits about us, I picked up a fat quarter bundle of Strawberry Fields and asked her if she wanted to split it with me. We also picked a pattern, Salt Water Taffy, and when we got home we split the bundle up. This fabric is great, the aqua and gray are what got me. We found the polkadot fabric at Hollyhill too, it is from the Breakfast at Tiffany's fabric line. It'll be used for the border and binding.
And of course there are the quilts I have started, and want to finish. My beautiful Stella Blue that Dianne and I started. I have put off working on it this summer. I want to pull it out again. I love this quilt so far!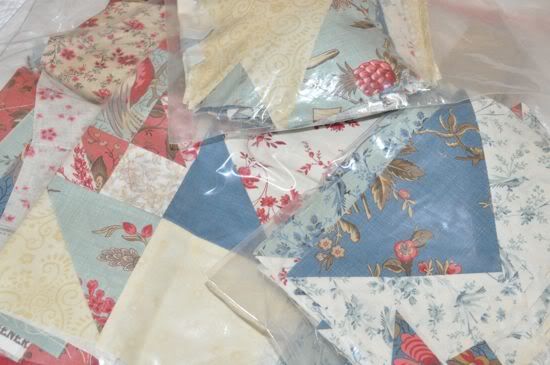 My Single Girl quilt. I have a lot done on it, I have however hit a roadblock in regards to sewing curves. I need to get over my trepidation and just GO FOR IT! I am such a chicken *bok bok*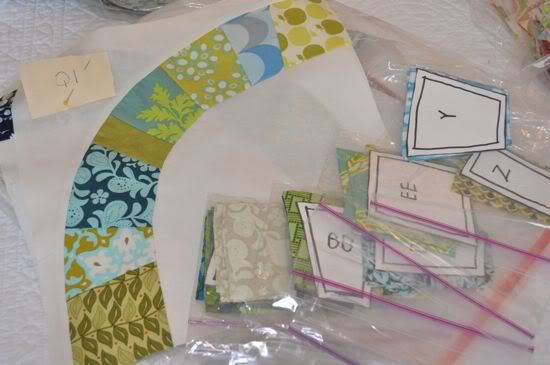 The Warm and Cool Quilt along, all of my half square triangles are ready to go. I need to figure out a pattern to lay them out in that I like and sew it together.
What are you working on, or what would you like to be working on! Let's motivate each other :)