When my mother in law Cherie came to visit in August, she brought along her quilt top. She had taken a big leap in quilting and decided to do a Block of the Month that her local quilt shop hosted. The blocks were all made and designed around Jamestown history.
She would call me and ask me questions about the directions on some of the blocks, most of them were made using plastic templates. It was such a challenge, but she did it! I am so proud of her. The quilt is A.MA.ZING!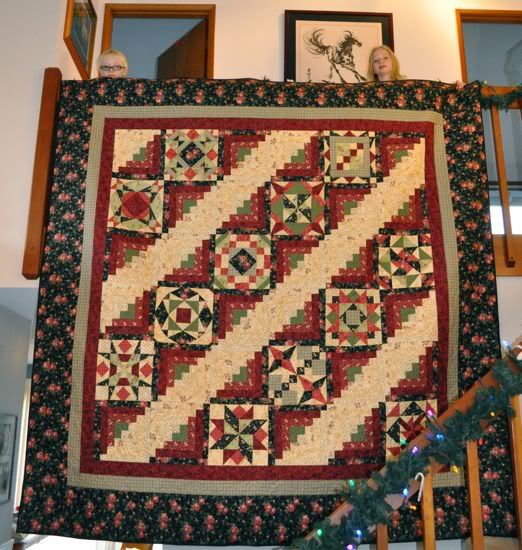 After she completed the top, she was too nervous to cut the three large border fabrics. So, I cut them for her. And then I sewed them on for her too. The quilt is enormous.
My friend Barbara quilted it on her long arm. There was no way this king sized quilt would fit on my dinky domestic machine. Barbara did a beautiful job!
I finished the quilt off with black binding. I usually hand sew my bindings down, but didn't have the energy or time to do it, so I used my sewing machine to finish it. I felt like I was cheating! Isn't that funny?
Isn't it so beautiful?? I told her she has to make one for me now out of blue and green fabrics. She laughed at me! Haha!