In my quest to be a better quilter, I started the Single Girl quilt last spring. There were a bunch of people doing a
sew along
, and I figured I'd jump in because I loved the pattern, and I'd have lots of help and ideas with curved seams.
I started off full steam ahead, got lots of piecing done, and then slammed into a wall when it came time to actually sew the curved pieces together. I didn't like all of the pinning, holy cow! I got poked like crazy... and I didn't like how it would never lay flat for me.
I put the project away, and pulled out a whole lot of other ones to distract me from the scary curved seams. A few months went by and I attended a
Portland Modern Quilt Guild
meeting where one of the 10 minute tutorials was about glue basting a curved seam, so that way you don't have to use pins. I left the meeting excited about the idea, and bought the glue... and still the project sat.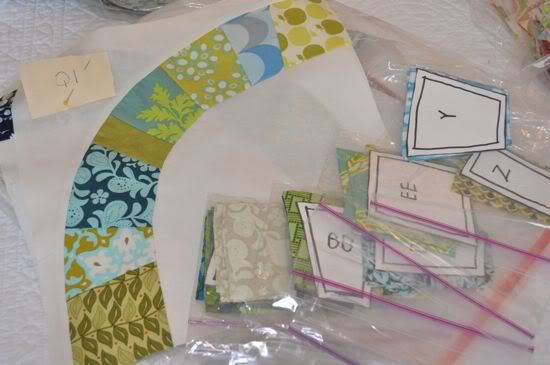 Finally 2012 rolls around, I am bound and determined to finish my pile of WIP quilts, and come across the Single Girl quilt. I pick up where I left off, curved seams. I start using the glue, just like I was taught, and guess what... it worked. Like, it worked so well, I made a whole bunch of them!!
And so, I will continue the Single Girl quilt because I busted down that wall! Woohoo!! Let's keep up the motivation shall we?? Please??? :) What quilting projects have you stalled out on, and what did you do to leap over the hurdle and continue on?