I am glad to hear some of you are interested in how the glue works for sewing curved seams! I'll be putting a post together for that soon, so be on the lookout okay?
Stella Blue has been on my table all week, and she is becoming quite pretty. First of all, I had a successful shopping trip to
Hollyhill Quilt Shoppe
last Saturday. They still had some Rural Jardin fabric, but I kind of wanted something different for the borders. I knew that Etchings by Moda would match quite well, and knew they had that line in too. I totally scored! One of the ladies who works there helped me choose my border fabrics. She convinced me to go with a skinny RED border first. Remember, I was thinking blue? Well, she was right (along with some of you who left comments)… red just looked great. I then chose a nice aqua blue for the large 5" border I'll put on the outside. And the red with the beautiful script on it will be the binding.
I sewed on my first 1" red border, and so far so good right? I am working on sewing the flying geese border now.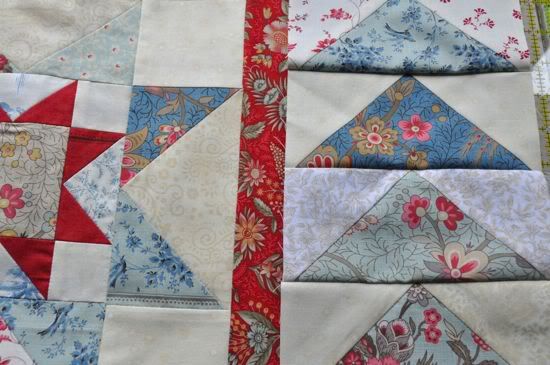 I would say it was a successful sewing week! Hopefully I can get another border or two sewn on this week.
The pattern for this quilt is called Stella Blue, by
Miss Rosie's Quilt Company
, fabrics used are Rural Jardin by Moda and Etchings by Moda. Dianne over at
Suburban Stitcher
is also making this quilt, so be sure and stop by her blog to say hello!