My family and I went on a fantastic vacation for 2-1/2 weeks. It was a sort of celebration. After 11 years of being an Office Manager, I resigned to be a stay at home mom. I am thrilled about this huge change that has happened for me and my family. My coworkers were sad to see me go, but they all supported me too, which was quite nice! We left for a long vacation after my final day at work. First we went to Idaho to spend a few days with Mark's family in the Rexburg area. We rode horses, ate yummy food and visited with everybody. It was fabulous!
Jessie and her Uncle's horse Trigger, they are twins with their blonde hair!
Craters of the Moon National Park was a trip! It was out in the middle of nowhere, and really strange....
After Idaho, we drove to Yellowstone and camped in the Canyon campground. We went on several hikes, saw lots of wildlife, and amazing scenery. Yellowstone is always amazing isn't it??
Uncle Tom's Trail hike in Yellowstone, gives you a great view of Yellowstone Falls.
All of the Hot Pots made Curren a bit steamy LOL!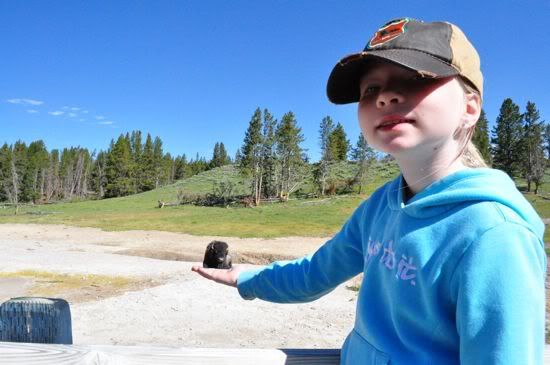 Jessie found a baby buffalo ;-)
Heading out of Yellowstone, we drove through Cody, Wyoming. I spotted a quilt shop and got some goodies :-) My husband is regretting getting me an iPhone, because whenever we were in a new town, I'd Google local quilt shops and mention we were a few blocks from one, LOL!
We stayed in Powell, Wyoming with my Aunt and Uncle, and my brother was able to visit us while we were there. My Grandma is doing well. My kids hadn't seen her for years, so it was a long overdue visit. We saw wild horses in the Pryor Mountains, caught a lot of rainbow trout, and enjoyed the Cody 4th of July parade.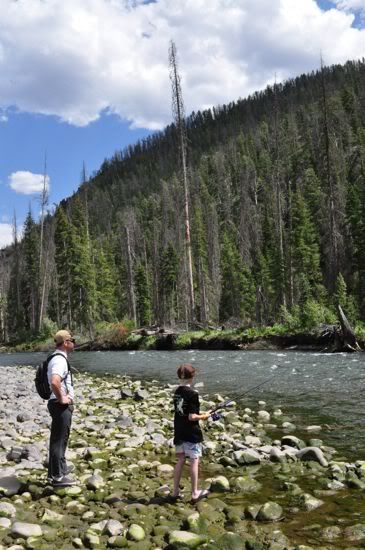 Fishing in Wyoming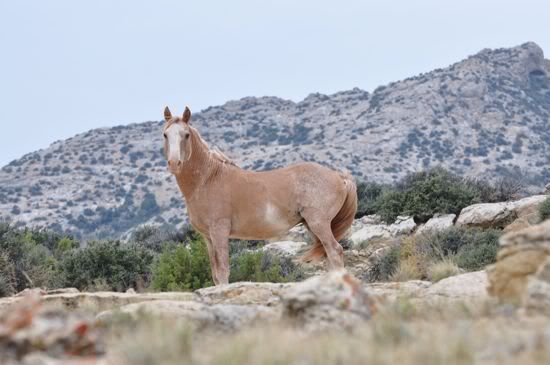 One of the many wild horses we saw in the Pryor Mountains in Montana, that was so cool!
My family
We sadly had to say goodbye to my family and headed back through Yellowstone, to camp in the Grand Teton National Park. If I could have just planted myself in that park for the rest of the summer, I would have been the happiest girl in the world. The mountains there are mind-blowing. Absolutely beautiful!!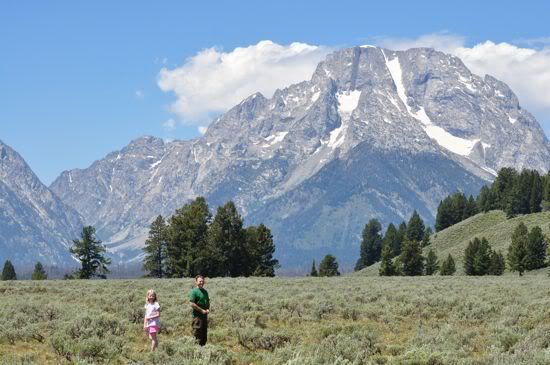 Mt. Moran, Jessie and Mark
The Grand Teton Mountain Range, on the drive to Jackson Hole, Wyoming
Moose!
Our last destination was Midway, Utah where we stayed with our long time friends, the Jarvis family. We played, swam, hiked, sewed, shopped and stayed up late talking. You have gotta love good friends!
When we finally headed back towards Portland, we were tired, but completely blissed out. I am so thankful for this new change in my life, my supportive husband, my awesome kids and good friends. Here is to a new beginning! Lots of posts to come, thanks for letting me share my vacation.