Hey everybody! Long time no talk! I've been flitting in and out recently, so I have a lot to write about. But right now, I have to share my favorite local quilt shop with all of you! You see, this Thursday the 24th, is
Visit Your Local Quilt Shop Day
. Come on, if you are lucky like me, you will be participating right?!?
The quilt shop that is close to me (somewhat close, 30 min.) and that I absolutely love is
Hollyhill Quilt Shoppe
. If any of you know me, you know I'll be happy to take you there anytime! I've been going to Hollyhill for years, and they always have something new and fun when I go. Hollyhill Quilt Shoppe is in West Linn, Oregon and it's a nice drive (for me) down several highways to get there.
First of all, they have amazing displays thanks to Brian, and all of the staff there. Fabrics that I wouldn't normally glance at are displayed so well, that I think of why I need it and how it might need to go home with me.
(Pics from Hollyhill Quilt Shoppe's facebook page)
I was lucky to attend a class last April taught by Sandy Klop, of American Jane. What a fun two days! I wouldn't hesitate to take another class there.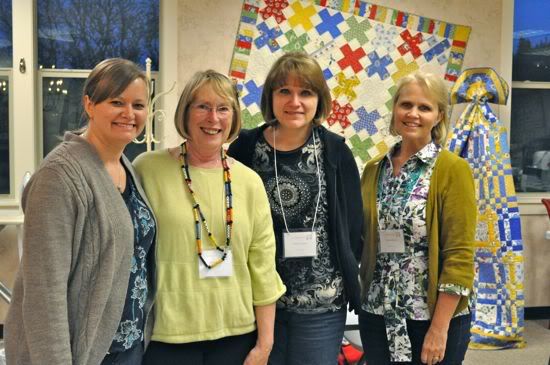 In my other travels, I always try and find fun quilt shops to visit. Here are a few of my other favorite shops I visited last year!
The Center Diamond: Cannon Beach, Oregon
- We are at the Oregon Coast a lot, so we have to stop by the Center Diamond almost every time if I can get away with it! (like every weekend) My husband doesn't really even ask anymore, he just drives straight there after a day of surfing.
Fabric Depot: Portland, Oregon
- Hands down the largest selection of fabrics you can find!
Cool Cottons: Portland, Oregon
- A small shop, but packed with color! I loved the modern fabrics and Japanese prints here.
Bolt: Portland, Oregon
- This shop has it all, and I walk out with a great stack of fabric every time I go. Plus, it's in a very fun shopping district!
Seasons of Home: Midway, Utah
- while visiting friends in Midway this summer, I went to this shop, it was adorable!! Lots of home decor and other goodies.
Material Girls: South Jordan, Utah
- I love going here whenever I am in Utah! They have great displays and a good variety of fabric.
Friends & Co Quilt Shop: Cody, Wyoming
- there is nothing that means cowboy more than Cody, Wyoming! This quilt shop had a huge selection of fabric, and lots of cowboy prints! I loved this shop.
What is your favorite local quilt shop??