I did it, I came in under the wire, it took me *almost* one year to complete this quilt. I started this quilt last year at Hollyhill Quilt Shoppe, at a class with Sandy Klop. She was such a sweetheart, and I learned a lot from her!
I wrote a big post about it
. It took me awhile to finish because of those silly appliqued circles, I didn't know how to get them on there, and finally one of my friends inspired me, and I got them done. After that it was a quick finish. The pattern is called Triple Crown and you can find it at the
American Jane
website.
The sun is shining here, so I took it outside for some pictures.
I love the zigzag edges!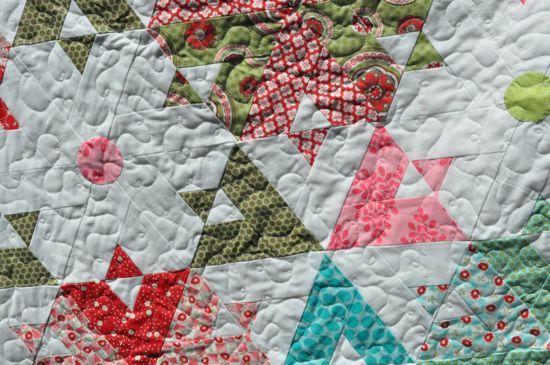 I did a meandering loop-de-loop quilting pattern on it with white thread.
I love the colors, it used a Bliss jellyroll by Bonnie & Camille for Moda, and some other matching fabrics that were needed. I but a Bliss aqua dot flannel on the back, and it's super soft. I can't wait to start using it!