A few months ago, I posted about
some pillows
I made, and here are a few more! I made them for the gift exchange we did with each other for the Sisters weekend. We all made 8 gifts and then exchanged them, it was so fun!
We all asked each other our fave colors, and Cheryl's was purple and green, so I dug these out of my scrap bag and made this pillow. I did some straight line quilting with matching thread along the rows.
I've been loving the "plus" quilts blocks I've been seeing around the internet, and decided to give it a try. I again, used scraps for this. I got my inspiration directly from this:
Knotted Thread
flickr image.
A year ago I won one of those Moda candy packs (2-1/2" squares) from the blog of
Minick and Simpson
. I finally found a great use for it. Joni is a Veteran and I thought it would be well loved by her in her home.
And finally this was finished up, the
Kaleidoscope pillow
that I previously blogged about. I love how it turned out, I did a little hand quilting on it.
I put a Tula Pink print on the back, it matched perfectly!
My last pillow was my first attempt at making a string block. I dug in the scrap basket for bright primary colors and cut 1" strips, and went crazy. It was really fun to make. I used this tutorial for it:
Little Miss Shabby String Star
. It went together easily, you should try it!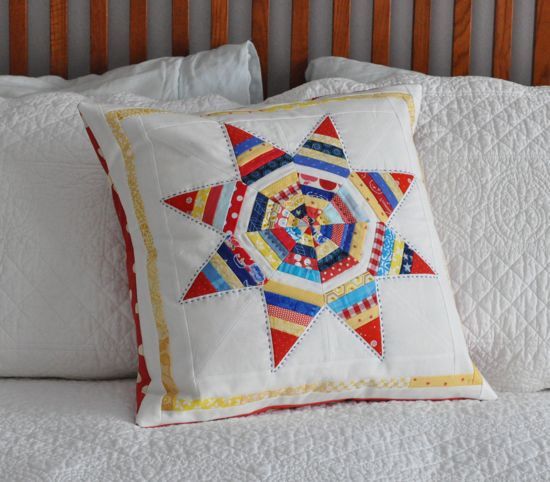 I did a little hand quilting on this one too, it's all about the details!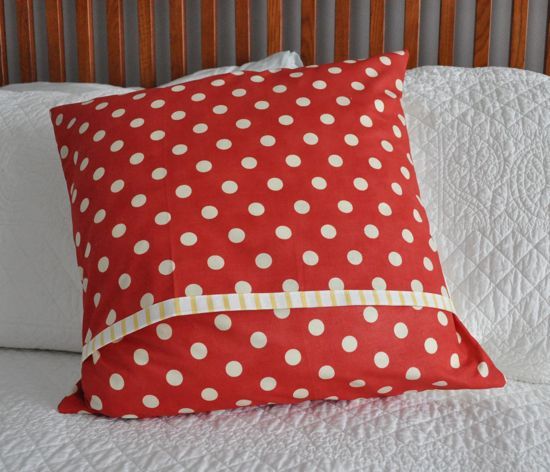 A fun polkadot was appropriate for the back.
I learned a lot making these pillows, how to make cathedral windows, paper piecing, hand quilting, string blocks and more, if you are hesitant to try something new, that looks a bit difficult, just make a pillow! That way you know if you'll like it or not :)