So... my husband's co-worker is expecting twin girls next month! So exciting isn't it? Twin girls?? Mark asked if I could make her two quilts, and how can you say no to that? I pulled out some charm packs and went hunting for simple patterns to use.
The first one is from the book Simplify by Camille Roskelley. It's a straightforward pattern that has gone quickly so far. The fabric is designed by Aneela Hoey, called Sew Stitchy, and it's so cute!
The other quilt I haven't started yet, but I've chosen the fabric and pattern for it. I'm going to use Vintage Modern charm packs, and the pattern
Baby Lattice Quilt
, by Amy Smart, on the Moda Bake Shop.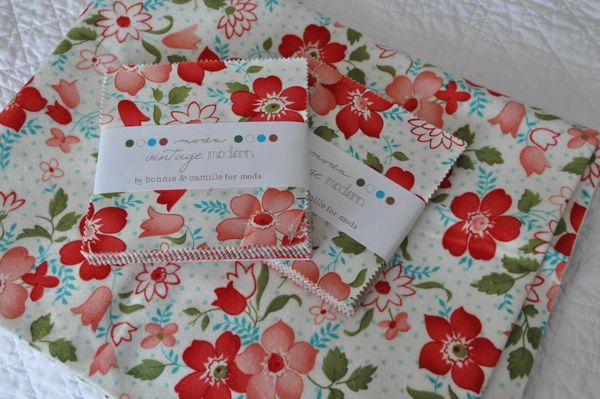 Hopefully I can get these both done in the next few weeks.
My mother in law had this tablerunner top languishing in her drawer, so I stole it and quilted it up for her. I believe this pattern is in an older edition of Quilts and More Magazine.
And I was so excited, a few weeks ago on Instagram, Amanda had an amazing giveaway going on, and I WON! Amanda has an Etsy shop called
Westwood Acres
, she sells beautiful bundles of fabric, and I've bought several from her in the past. I chose the fat quarter bundle Acacia by Tula Pink, and this amazing pattern by Jen Kingwell. Thanks again Amanda.
I'm going to attempt this quilt someday, that pattern is so cool!
Linking up with Lee at Freshly Pieced for WIP Wednesday