Hello! If you are visiting from the
Blogger's Quilt Festival
, welcome to my blog! My name is Heather, and I am excited to show you my quilt. I love this online "quilt show" where we can see everybody's favorite quilts, and learn all about them, it's very inspiring.
The category I chose to enter in is the ROYGVIB, the Rainbow quilt category. I made my very first quilt like this just a few weeks ago. I've really challenged myself this year to use my scraps, and enjoy the process. Sometimes, when I use scraps, I get frustrated, and I'm trying to get over myself haha! The only time I had to cut into my fabric yardage and fat quarters was when I needed extra long strips for the larger part of the blocks.
The quilt pattern I used is a tutorial from
Film in the Fridge
, called
Converging Corners
. I was inspired by Cherri, one of my fellow Portland Modern Quilt Guild members, who made a beautiful quilt using this tutorial, I decided to make one of my own.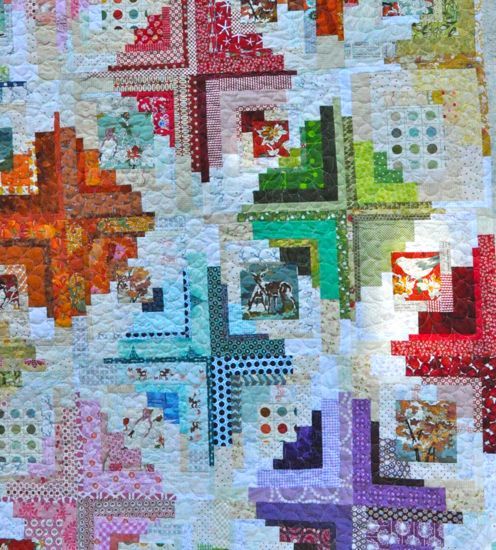 The center of each block has a fussy cut square from the Lush fabric line by Moda, which is paint by number deer and birds, and paint pot colors. I quilted large flowers inside of each 14" quilt block, it turned out really cute.
And the back of the quilt is so great, it's fabric designed by Anna Maria Horner, I love it!
Thank you for taking the time to come and visit, have a great day.