What a week so far, I can't even hardly sit down to read your blogs! Well, I've been kinda busy with my projects, but since it's been so nice outside here, I've been out in my yard working, or playing with my kids outside!
The kid's birthday party is going to be on Saturday, and Jessie's quilt isn't totally completed yet. I have to finish tying it, and it's taking me forever to do! I have to start getting the house cleaned up tonight, to be ready for the party on Saturday. I work full time during the day, so I have to be in full-speed mode in the evenings in order to get anything accomplished :P I am sure most of you know what I am talking about. I feel like a drill sergeant half of the time, well most of the time. We have to go NOW NOW NOW! It's exhausting, but I have got it down to an art now, so I just have gotten used to my busy life.
At work, I am able to stitch a bit. So I take my smaller projects with me. I stitch during my breaks and at lunch. I work with all men, so it's not like they can appreciate it or anything, but hey it works! So, this week, I have started and finished my next Jayne's Attic Round Robin piece… here at work. She is having everyone stitch a different type of daffodil. She couldn't have picked a better chart! I loved stitching it, and I even found the type of daffodil this is, so that was fun.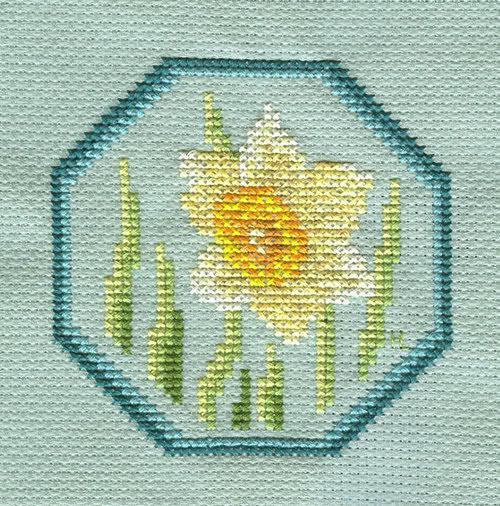 I also heard my USEBB partner Julianne has received my Spring Quaker exchange package! I mailed it on Monday. I had finished this at the beginning of March, so I've been dying to show it to you guys :D I found the chart for free off of the internet, and used floss from Needle Necessities, it was all one skein, I loved the color variations in it, it looked so springy to me :) I made my first little needle book, and put a pocket on one side. It was really fun to make.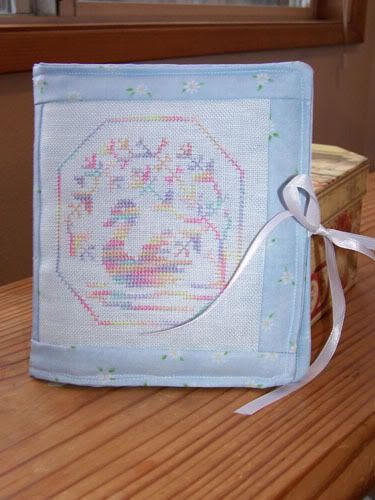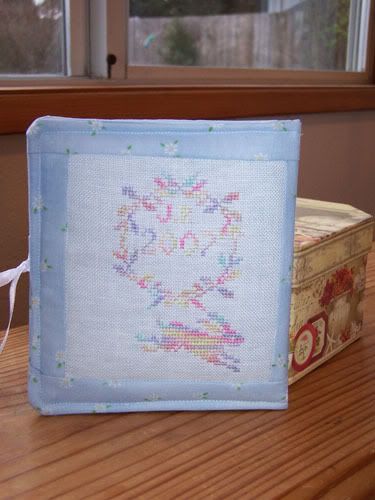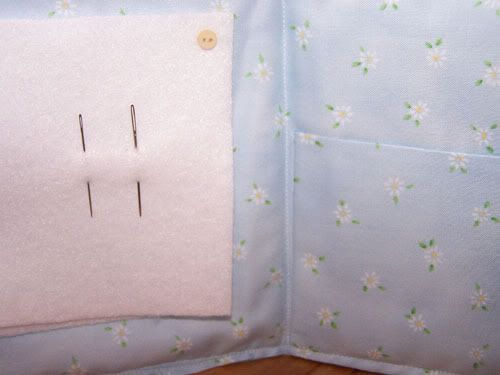 Then, I keep forgetting to post this, Su has sent me a PIF gift, and I have admired her work for so long. It was such a treat to get this in the mail from her. It is a lovely little ornament. I will actually be hanging this on my Christmas tree, I love it. Thank you Su!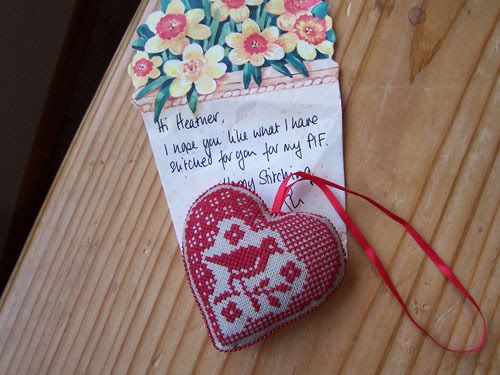 I am working on other exchanges now, and finishing off Jessie's quilt. I heard that my Carpenter's Star quilt I sent of to be "quilted" is done now! They are going to be working on my mom's blue and white quilt next. So hopefully we'll be seeing those again soon. Now I am off!!