Between breaks and lunches I finished the little Trilogy chart called Family. I will make this into a wall hanging probably this weekend. Wall hangings are so easy! :D
I scanned it, so it's kind of crooked, sorry about that. I am missing my camera!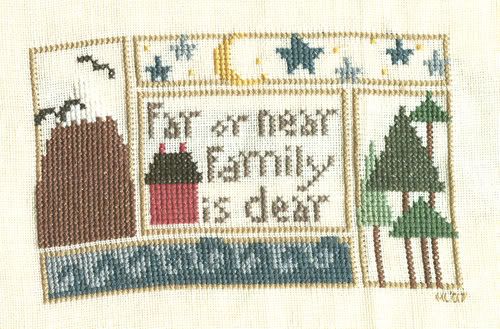 Barbara, I used my boss's camera when I took the WIP picture, but I didn't tell him I did! He wouldn't really care I am sure, but still… I just borrowed it really quick :) LOL!
I started my neighborhood RR! I decided to make my 9 squares all 70x70.
Cindy
told me she was doing it that way too. I thought smaller squares were a little more manageable, also it wouldn't be so HUGE :) I bought 32 count light sand Belfast linen. I really like it so far. I am doing the border with a green overdyed floss. I have even made some grid paper and drew out my farm pattern! I think I should make patterns, it was so much fun to draw this one up, even though I'd get sued for the one I drew as I liberally borrowed from other patterns LOL!
I received a beautiful birthday gift from
Carol
. Have I ever told you how much I love Carol? Seriously, when I started thinking about making a blog, I found hers, and she had so many useful links, so many beautiful projects, and she was so nice. I mean, it is all her fault that I have a blog now too for my projects. She made me a cute biscornu from a Shepherd's Bush pattern (she knows me well). It's so sweet. I'll take some photos soon. Thank you Carol for the gift, you are so great! *hugs*
So, my hands are hurting from all of the stitching I did this week. I've stayed up really late every night working on the RR, and some gifts. So this weekend I plan on doing a lot of sewing so my back will hurt instead. You win some you lose some.