This week has sure gone by quick, but the days seem long. I know that doesn't make sense, but that is what I feel right now :P
I have been such a good girl since I posted about not buying any stash. I am quite proud of myself. I did get two of my cross stitches framed though, and I have never had my work professionally framed, I love it! I wanted to hang both of these in my living room since they are "ocean-esc" :)
Hinzeit: Harbor Lights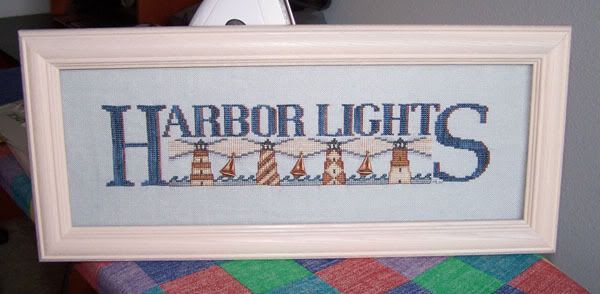 Kind Stitchworks: Cannon Beach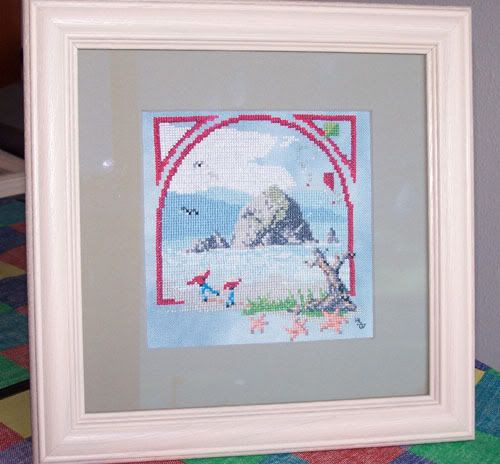 I had the hardest time coming up with what color of mat for this one, I finally settled on green, since that matches the green on the Haystack Rock. I like how it turned out. The question now… where am I going to hang them? :D
I went to our quilting class at church last night. We are making seasonal items now. So, we had to get fabric to do a Christmas tablerunner. I didn't start on it yet, I helped some others cut their fabric, since they were new to quilting. It was fun! I hope to get started on it this weekend.
I've also been stitching on my September Bent Creek Snapper. I still have a long ways to go, but I hope to finish it this weekend too. I love how this is turning out. I need to start on the border as well if I am going to get it done by the end of the year. We shall see. I've been working on my Pumpkin quilt too! It is going to be so cute. I've been sewing the leaves together. There are quite a few, but I'm getting them knocked out. It is coming together a little bit at a time.
On the family side of things, our little hamster got hurt this morning. His paw got stuck inbetween parts of his cage. The poor thing! Jessie was so upset and crying for him. He will be fine, but I felt bad for it. You know… if it is not one thing it's another right? Holy moly, I can't keep up with life some days.
I have to tell you all thank you SO much for stopping by and leaving comments, it makes me so happy to know you all love these hobbies as much as I do! It gives me motivation to keep on truckin' and enjoying what I am doing.