I was happy when I had received Amy's name for my exchange partner. She does such beautiful work! Fall is one of my most favorite seasons. I love the warm colors of reds and oranges that are all over the trees. The cool, crisp air. The harvested apples, going to the pumpkin patch. So much fun! I found a simple quaker design from a freebie. I then wandered to my LNS and searched for the perfect fall thread. I found a great one, made by Needle Necessities.
I made her a little needlebook: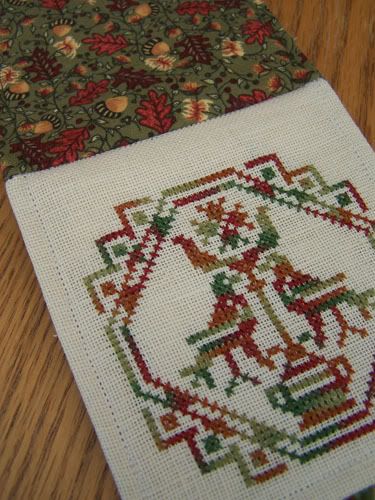 I then found the perfect fabric to match! Nothing like when a plan comes together. :)
She says she loves it, and I am thrilled! :D Enjoy Amy.
Also in time for the fall season I finished my LHN: Pumpkins into a cube. I decided to give it to the woman who takes care of my kids while I work. She is fabulous, sweet and so great to my kids. She also loves to decorate for the seasons, so it fit right in with her décor. She was very happy to get it yay!
So for church we have an evening for the ladies. It is every quarter, and we have to put on some sort of activity for everybody. I am in charge of all this, and have a lot of help of course. This year is a Fall Celebration. We had signups for soups and desserts. Then we are talking about favorite traditions, making some cute seasonal blocks, demonstrating how to make caramel popcorn balls, and tying quilts for families who need them. It will be a fun evening, and it is next Thursday. My evenings will be taken up in planning this, so I am not sure how much of my own things I'll be working on :D I am excited for this night though, they always turn out to be so much fun. Here are the blocks we are making, my friend and I are teaching everyone how to do these.