I hope you all had a really fun Halloween! I'll post some photos of our party we had on Friday night. Almost everybody who came were good sports and dressed up! We wrote on the invites that a costume was mandatory, I am so glad we did because it was a lot of fun to see everybody in costume.

Here is our clan, I was a witch, Mark a surgeon, Jessie a fairy, and Curren a Ninja.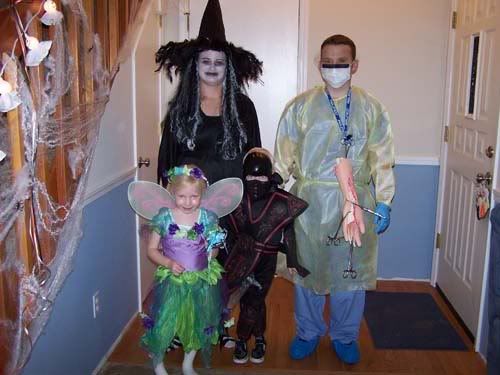 We had a Rubic's Cube:
Hippies! (they won the costume contest)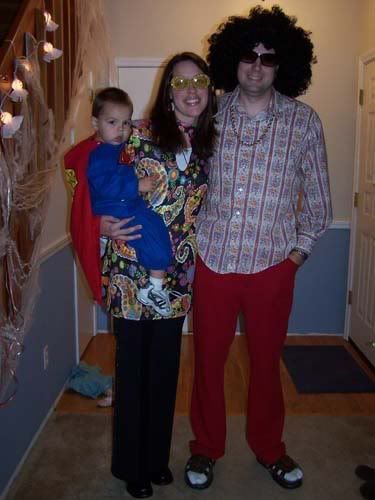 A flower garden, complete with flower, tree and butterflies:
There were more couples too, it was great. I hope to do this again next year, and we have more ideas for games and whatnot. I loved it! Trick or treating was nice too, the kids got a lot of candy, and I've already confiscated several Snickers Bars :)
I've been stitching away on Rob's NRR, it is looking good so far. I chose a rather involved chart to do for her, it'll fill in the whole block. I'll post pictures of it soon :) I started Bittersweet Farm by Hillside Samplings too, I am doing this one at work, I've made some thread changes on it to use what I have at home already, so far so good. More pics soon!
Oh yes, since it is already November (holy cow!) I'll do my goals too:
October Review
1. Work on the Mermaids of the Deep Blue. *I finished them!!!*
2. Find chart for next NRR, and start it. *yes & yes*
3. Stitch October on the Bent Creek Snappers *yes*
4. Work on the 4 Seasons *no*
5. Work on Grandma's Log Cabin quilt *yes, finished the blocks*
6. Work on Pumpkin Quilt *no*
7. Put binding on Ocean Waves Quilt *yes, it's done!*
This was a good month, I had a few big finishes I got to cross off, it felt so good! I also started a few new projects, The Cape and Bittersweet Farm, finished two stitcheries & LHN: Berries, and finished one of my Christmas exchanges

November Goals

1. Finish Rob's NRR
2. Work on Bittersweet Farm
3. Work on The Four Seasons
4. Finish Grandma's Log Cabin Quilt top
5. Work on Pumpkin Quilt
6. Make Fall Tablerunner
7. Finish Christmas Exchange Ornament

There are other things I want to work on too, we'll see how far I get on any of them :)