I squeaked out one more gift for somebody in my family last week, and I am not telling who it's for. Anyway, it was fun stitching this. I changed the colors to use some Needle Necessities floss that I have on hand. It stitched up really fast, and so I may do it again. I like the design a lot :)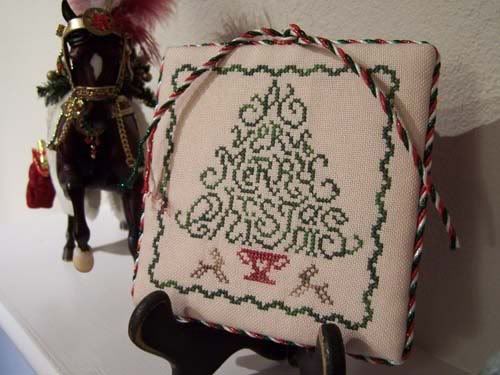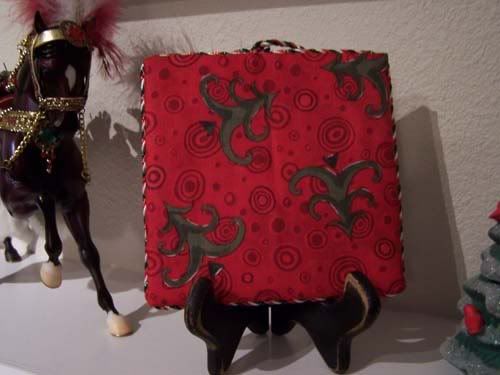 JBW Designs: A Very Merry Christmas
32 Count Bone Linen
Needle Necessities Floss

I am working on some Christmas tablerunners right now, that I know won't be done in time, but they can be saved for next year, and it also doesn't put me in a panic to finish them by next week. So, I'll share photos of those when I make more progress on them. I got most of my Christmas shopping done, and man that feels good! We have just a few more things to get for family members and we'll be ready. I am going to mail out my Christmas cards tomorrow (if I can finish them tonight) and that will make me a happy camper for sure!

Here is our huge Christmas tree. Mark says it's 11 feet x 11 feet! I think he's right. It's really bushy. We love it though, and it makes the house smell so good. My sister got their tree last weekend, and she said theirs is 16 feet tall, holy cow! That is one big tree :D She has got me beat.

Thank you for your encouragement on my goals for next year, you are all so nice. I hope that I can stick with them and get some of these lovely things done for myself, I am pretty excited about it. I didn't add my quilting goals to it, quilting seems to go differently for me than cross stitching… so I will just try my hardest to use what I have at home for my quilts :) I am too addicted to fabric to say I won't buy any until certain things are done, I just can't do it, I've tried LOL! It's my vice I suppose. All things in moderation I say.
Good luck getting your preparations for Christmas done, I know you all will need it :D Have a great week!