I received a wonderful, beautiful, over the top awesome Christmas exchange from Miss
Leena
! I am so excited. I love it! She stitched me a pinkeep from a Bent Creek chart: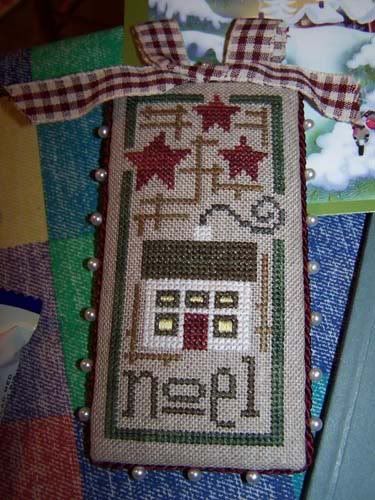 And sent me so many wonderful goodies. The book she sent me is really neat, and I've been reading through it getting a good sense of how old quilts were made, and where they come from, very cool.
Leena, thank you SO much.
I am in a bit of a rambling mood, please bear with me.
Thanks so much for your comments on the pincushion :D I was so excited I had finally got to make one, I had waited months to get the pattern LOL! I am not good enough to just make one on my own with no pattern yet. I am learning that is for sure. I have big plans for those though, many more to come. I showed it to my husband who is never ending in the sarcasm department, he was sitting on the couch, grabbed it from me, and put it behind his head. Then said "it's too small for a pillow…" and wasn't impressed. He always just smiles and nods at me :D Men, they just don't understand do they?
We have a spare bedroom in our house, we only have 3 rooms actually. The kids share a room. And we figure it's about time to move Curren out, and give him his own room. Well… you see the "spare" room has become my "craft storage" room. I go in there and make a huge mess on a weekly basis. Since I am always wanting new ideas, and making new things… it's kind of like my studio in a way I guess. Well maybe not, but it has a bed, and dresser and closet… all full of my stuff. And I spread it out all over to come up with new ideas, and all that. Well, Mark says I need to move my stuff out of there for Curren this month. I am in a bit of a panic. I don't want to stuff it all in Rubbermaid tubs to only pull it out all of the time. And we have to put it in our bedroom. Ack! Mark says I need to stop buying fabric and save my money for a nice cabinet. Now there is an idea! Maybe men do understand… except for the not buying fabric part. Is he trying to kill me?
Speaking of buying fabric, I've been bad, and bought more last night. I am making a quilt for my babysitter. I picked out the pattern last month and have been slowly getting a yard of fabric here and there. Well, I got the rest for the top last night, now I can start to get it cut out. I guess it's not bad, because it's for a specific quilt, and I have a project for this fabric :D I also got a few ½ yards of Heather Bailey fabric while there, they had it on clearance SCORE! (I see more pincushions from this) Photos to come later I promise.
However… I will be finishing my Grandma's quilt top first. I have to get that done, and it shouldn't be too hard to do that.
So,
Von
since you've been cleaning your house out, when you are done, please come over and help me with mine LOL! I am thinking this weekend I can start cleaning that room out. Wish me luck, I'm gonna need it.