So, I was looking and looking for an issue of Quilts and More magazine from this past summer, and never could find one, because of a pincushion pattern I wanted to make Soooooo bad. Anyway, Colleen hooked me up last week with the pattern, she had it! I learned about the designer
Heather Bailey
, who is really cute. Go see her blog and drool over the pretty colors and her fabrics, and see her studio (to die for!). Talk about inspiring, I almost bought her whole collection today, but stopped myself LOL! You can find
this pattern
through her blog too, well imagine that, so you all need to go and make some of these right now because they are adorable.
Here is my version, I doubled it in size though, the pattern I printed would have been 2" x 2", I made mine 4" x 4" x 1-1/2" deep.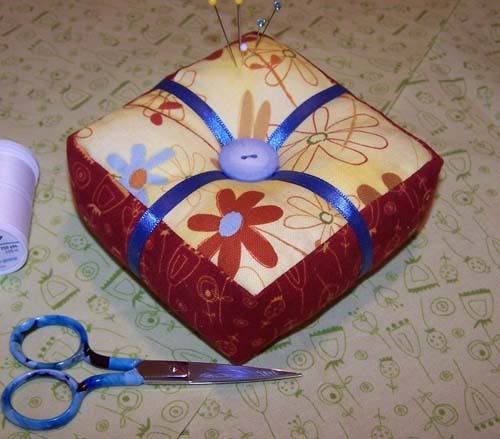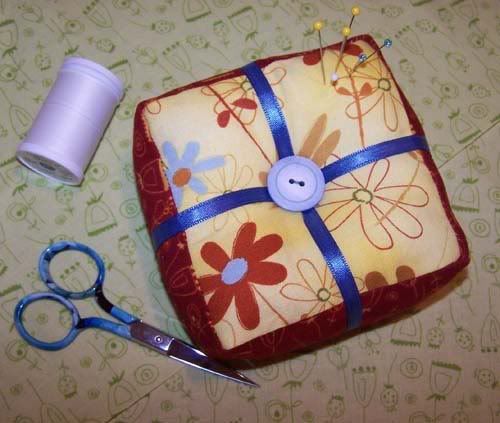 I will be making many more of these for sure, all of the cute ribbons and buttons, oh so fun :D
Also, I've been working on a Holly Jolly quilt. I bought the charm packs of this fabric, so it made it go pretty quick. I didn't have enough of the 5" sqaures however to make it as big as I wanted so I made 5 star blocks to go with the other blocks. Here is my top all done now: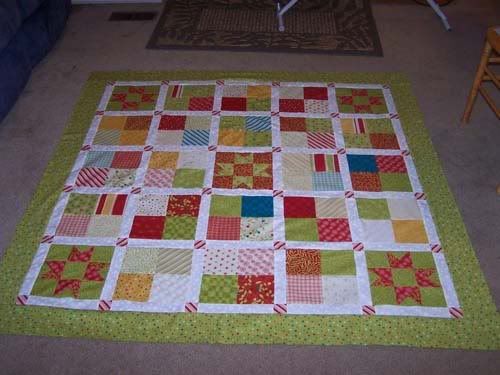 I have a red flannel with white snowflakes for the backing, and I'll tie it to finish it :D I know it's a bit late for a Christmas quilt, but hey... I tried. Next up on the list is finishing the top of my Grandma's log cabin quilt. Wish me luck!