I've been so happy with a "prize" I won! I left a comment on Kendra's blog (The Stitching Hour) for her blogaversary prize, I was a very lucky girl and won! She made me a pincushion with a log cabin design on it. It's so ME, and it's perfect. Thank you Kendra!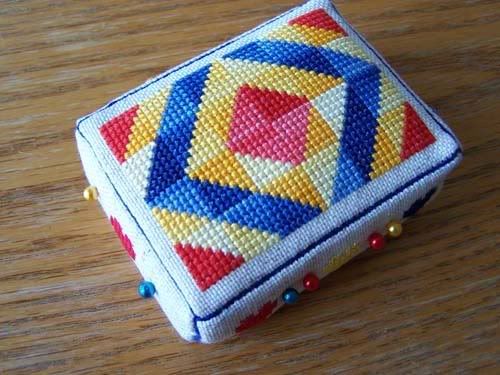 I finished stitching and finishing the upcoming exchange I am in last night. It is for the SBEBB Garden Exchange. I am really happy with how it came out, I wish I could mail it now, but will wait for a few weeks, we have until May 1st to mail it out. I like getting exchanges done early, because stitching is so time consuming, it stresses me out to wait until the deadline!
I've been working away at Old McMary's when I get time. I have been bringing it to work with me, and filling in all of that red. I got the main body of the barn done, but still a lot more red to do :) It calls for Kreinik Green metallic thread for the interior of the windows. I just can't bring myself to use metallic thread on this primitive design. So, I think I'll use a dark green WDW floss to fill them in.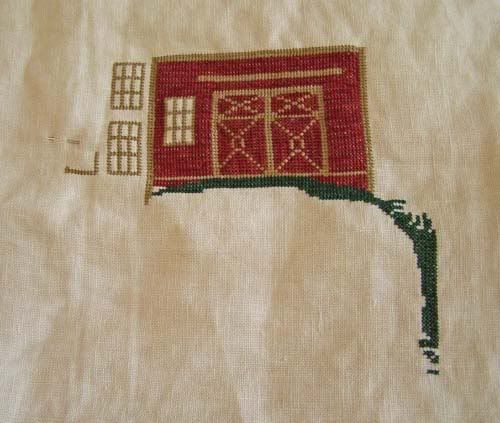 I kind of got off of my rotation on Bent Creek Snapperville because I was focused on that exchange piece. I was able to work on it for about an hour the other night though. Here is my progress on that.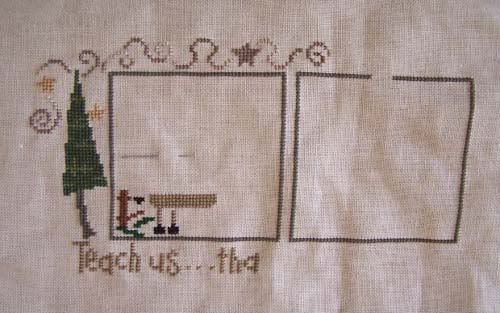 I went and bought some three ring binders and page protectors. I am going to organize all of the ornaments and freebies charts that I have floating around all over my house, in the many "piles" of papers. I got several done last night, and I think it'll help to have a central location for them :) I do scan most onto my computer and save them there, it's so much easier for me to keep track of them that way. Plus, it lessens the paper problems I seem to have.