What? Is it Monday already?
This weekend was a whirlwind for me… Saturday I got together with my friends and we made lots of strawberry jam. I bought a flat of strawberries, and 20 pounds of sugar… it produced 36 jars of jam! You can't beat that :) It should last me two years, if I don't give most of it away. I am tempted to make a bit more just for gifts… we'll see. I am kind of sick of strawberries at the moment. In case you are wondering what I use, I use the Certo liquid brand of pectin, it's a very easy recipe and goes quickly.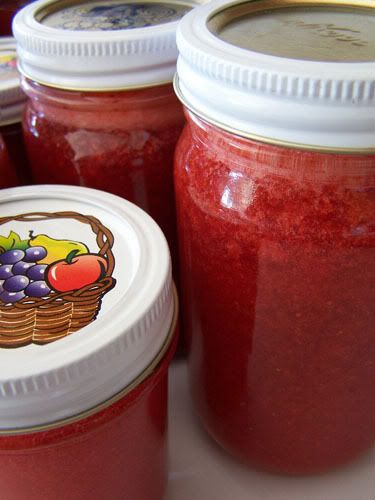 Saturday night we met our friends to go to a hot air balloon festival. We went for the evening, there was a carnival, band, and booths. The hot air balloons were raised so we could walk around by them and check them out. They are so neat! I just sat and stared at the most of the time. The kids thought it was great.
Sunday was a great day. We had fun hanging out with dad :) I also started stitching on Cindy's NRR on Sunday. I found a freebie chart by Barbara Ana called
Small House
. It will be so cute! After this NRR is done, I only have Von's to stitch on and then… the NRR is completed. Wow!
I didn't get a chance to bind my Christmas quilt. Maybe this week I can get to it. I told myself I can't start basting any other quilts until I finish this one. Just one at a time, I have to keep telling myself this :) JoAnn's is having a big sale this week, I have coupons for more batting… so I wanted to get enough for the quilt tops I have done. I really want to get these done this summer. I hope I can keep up my momentum.
Still to finish are: Blue/Yellow Log Cabin, Cowboy Carpenter Star, Pink/Green Carpenter Star, Star Lights, Block of the Month Quilt. I think I'll do my log cabin next.