This past week was pretty busy for me, Mark was gone to be with his family. His mom is doing much better now, she's still in the hospital, but improving every day. Thank you for your well wishes!!
I signed up on the SBEBB for the specific designer exchange. They gave us our exchange partner's name a week ago, I was able to actually stitch and finish it in a couple of days. I could not put it down :) So now I have to wait for a month to mail it. I am excited about it :D The designer is Shepherd's Bush, and they are one of my favorites.
I've also been working on Blackbird Designs: Sunflower House. It is turning out so pretty. I read on Wendy's blog she is stitching on it now too. Here's my progress, it's the one I've been focusing on the most recently.
I've also picked up Old McMary's again at work. Still filling in the barn and the roof, it's so big, but it will be a neat one to finish for sure. I mentioned I bought the fabric to start Shores of Hawk Run Hollow… I haven't started it yet, I am a chicken! It's so BIG, and after finishing The Four Seasons, another big one scares me LOL! I will be working on it soon I hope, I need to pull the threads for it first. Anybody else scared to start such a huge project? :D For fear you won't finish??? Or it'll take you 7 years to finish it??? :D
I started a quilt for my mother in law, I am not sure how quick I can get it done, but it's started :) Pictures to come soon…
I'll leave you with photos I took at the International Rose Test Gardens here in Portland last Thursday. We are the Rose City after all, I must share!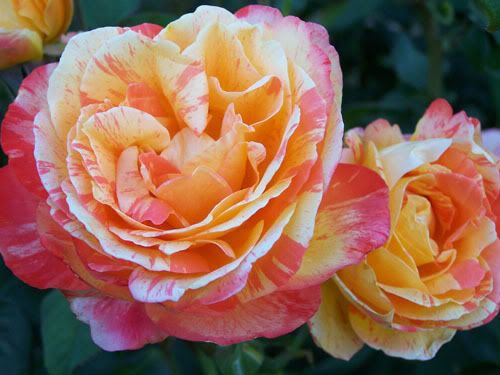 Here is the view from the gardens overlooking Portland and Mt. Hood.