I was a lousy blogger this month. Most of what I'm making is super secret you know, so therefore I can't share much of anything. I did however get a few things accomplished this month. I worked on Old McMary's for one! I went to my local shop Acorns and Threads one night a few weeks ago and worked on it for a few hours, and have been working on it at work when I can. I have the barn done, and am working on the big trees now.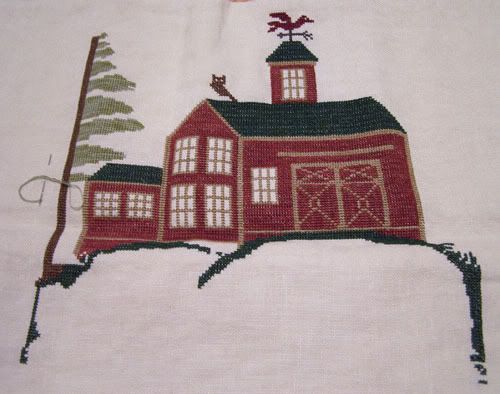 And I pulled out Snapperland, I had to dust it too, as it has been months since I've worked on it :D I got the horse and barn stitched up, cute huh?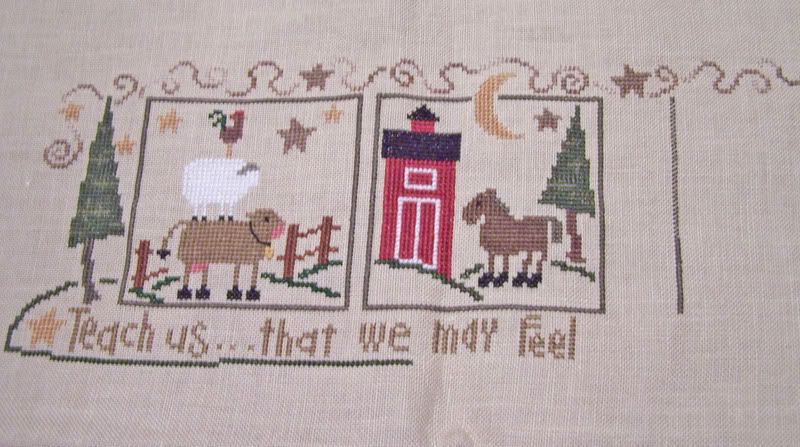 Also I started some Christmas tablerunners, and have a multitude of other things to work on too. I need to get going on Von's NRR, finish an exchange I have with Leena, and start a Thanksgiving exchange. Now… we'll see if I can stay sane with all of this work to do. I did get my Birthday exchange mailed off, as well as the SBEBB Fall House exchange mailed too, so I can share pictures of those when they are received. I want to get one of my Carpenter Star quilts completed in October, wish me luck!
After this month, I should have the NRR completed, and that will be finished for me. It's been a long road on this NRR, it was more work than I had anticipated, I do love the outcome, it's been fun seeing them all come together.
And just because it's cute, this is a baby elephant that was born at the Portland Zoo about 5 weeks ago, it's adorable, and I've gone to see him twice now :)
We've had a multitude of pumpkins growing in our garden, but they are kind of small. Curren has decided he wants to be a pumpkin patch for Halloween! It's hilarious! :D
September Review
Bind Pumpkin Quilt *NO*
Bind Grandma's Log Cabin Quilt *YES, and Grandma Loves it!*
Work on Old McMary's *YES*
Stitch one block on Snapperville *YES*
Work on Winter Stack *NO*
Work on Von's NRR *YES, barely started it though*
Add borders to Curren's quilt *YES*
Mail Birthday Exchange *YES*
Stitch an ornament *NO*

Also mailed SBEBB Autumn House Exchange, worked on Fall exchange to Leena, started 2 Christmas table runners.
October Goals

Bind Pumpkin Quilt
Finish one Carpenter Star Quilt
Work on Old McMary's
Stitch one block on Snapperville
Work on Winter Stack
Work on Von's NRR Stitch an ornament
Work on Thanksgiving Exchange