For the past few months, I've been busy working on a dozen different things, which means slow progress on each of them, which doesn't make for exciting blogging :) I do have a few things to share now, and I say, it's about time! :D
First off, I finished a small quilt top last night, it's another of the Schnibbles patterns by Miss Rosie Quilt Company, called Gazebo. I want to do every single one of these mini quilts, they are all adorable. I used the Moda Flutterby fabrics, they all have some sort of bug incorporated into the pattern, and it is very cute, and very bright, in fact, the brightest one I've made so far, and I LOVE it. I plan on giving it to Jessie of course. So now I have to quilt it and bind it.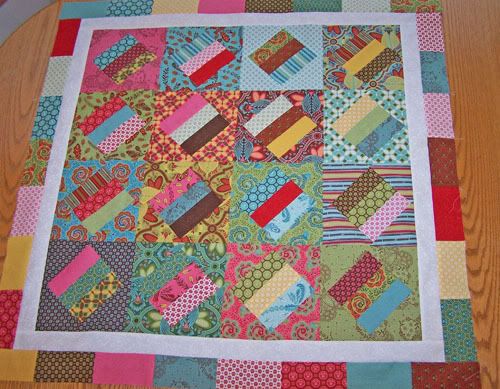 I've been collecting red and white fabrics for a new quilt. Here is my stack, I pre-washed them with one of those color catcher sheets, and I am glad I did, because the sheet was very pink when I pulled it out of the washing machine. I really never pre-wash my fabrics, but since it's all red with white, I figured I'd better do it this time. I am excited to start this quilt, more pictures to come once the assembly begins!
And I am making good progress on Von's NRR. I am almost done, I have some backstitching to do and that's it! I am so excited!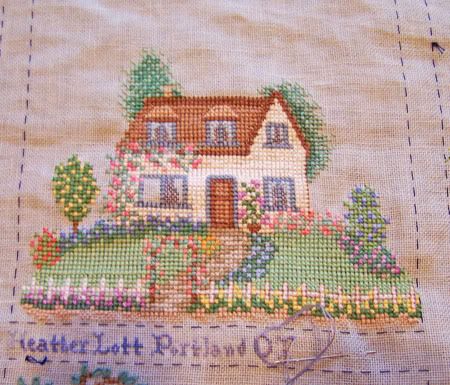 I've been working on this tablerunner for my mom the past couple of weeks. I wanted to give this to her for her birthday, which was on October 6th, so I am totally late. I am such a lame daughter. But it's the thought that counts right? At least I try, LOL! She loves the country décor and has lots of cows in her kitchen, so this should fit on her table nicely.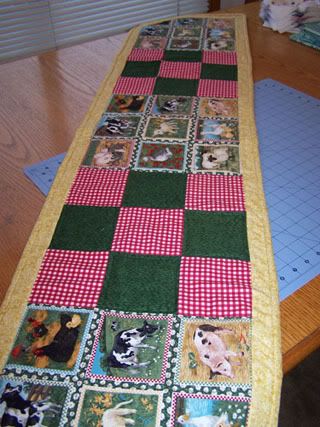 So, I mailed off my Thanksgiving exchange today, which means I have 3 more exchanges to mail out and I'll be exchange free for as long as I can. That is until I can't take it anymore and have to do another one. I plan on holding off for now though, too much stuff to work on for family and friends around here.