I can't make small quilts, I try to, and then, and then they turn out HUGE! I had bought 6 fat quarters to make this quilt for Nikki, and then I added some white, and ended up with a big 45 x 55 baby quilt! At least she'll be able to use it for several years instead of one year right? :) I was able to sew this together over the weekend, and it was so fun! I spent several hours on it and was glad I did, I haven't been sewing a lot this month and it was good to do it again.
The fabrics we chose for this are just adorable. They have these tiny cherries on them, and some irredescent dots too. I think I might have to keep this quilt!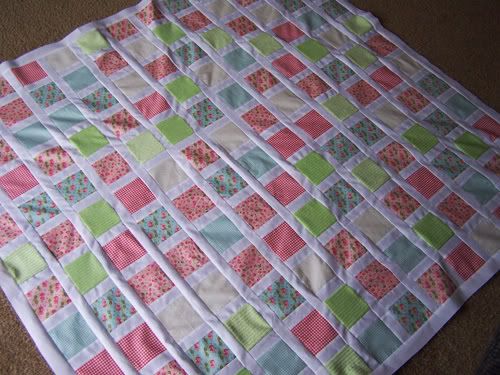 So, now that the top is done, I have made a bunch of little triangles to add all of the way around the border, and am trying to come up with how I want to quilt it. I have to get this done, babies don't wait around you know.