So, I tend to hold onto certain fabrics that I love, until the right project comes along that I think is worthy of using the fabric in. This fabric has little gold fish in bags, and they have cute names written underneath them. The fabric is by Heather Ross, who I have grown to love. Her fabric designs are adorable. There is about a yard and a half left still, it will take something else to get me to use more :) This fabric was my base to go off of. I have slowly gathered orange and aqua fabrics for the past year, that matched the goldfish. It finally all came together.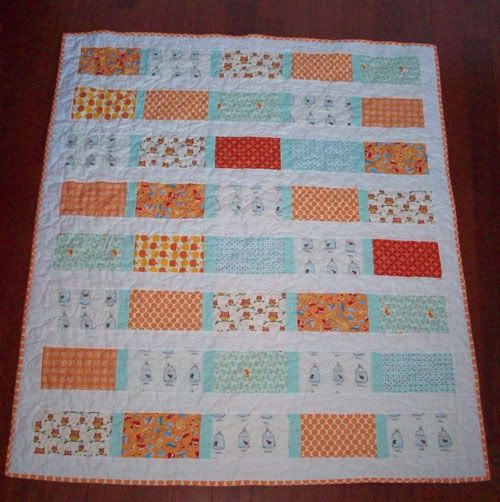 This quilt is for a friend who is having a boy in June. I had some left over aqua flannel that I used for the backing. It's about 48" x 52". So, it'll be good to use for several years.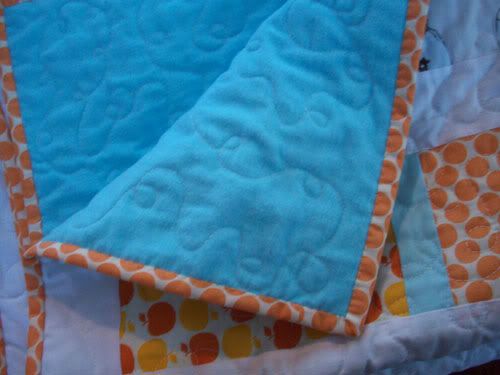 I quilted it with white thread and did loop-de-loops quilting on it.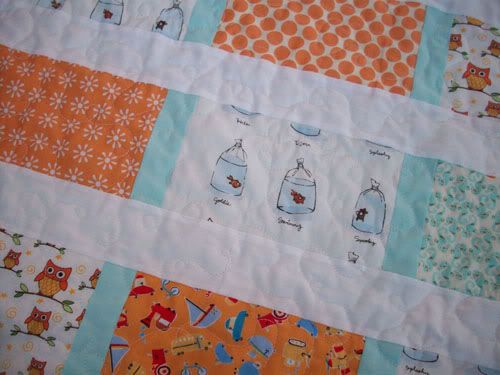 This pattern was so simple. I used a pattern from the Spring 2010 Quilts & More magazine. I made it smaller, and changed the width of the sashing so it'd show the fabrics better. There will be more of these baby quilts in my future, all of my friends and cousins are having babies. Love it!
I am getting ready for my sister and her baby Lilyanne to visit us next week. They are staying for two weeks, and I can't hardly wait. She'll be here for spring break :)