I finished another little quilt yesterday, this one used up quite a bit of my pink and green stash. I love how it turned out, and how all of the fabrics are so different, but go together nicely.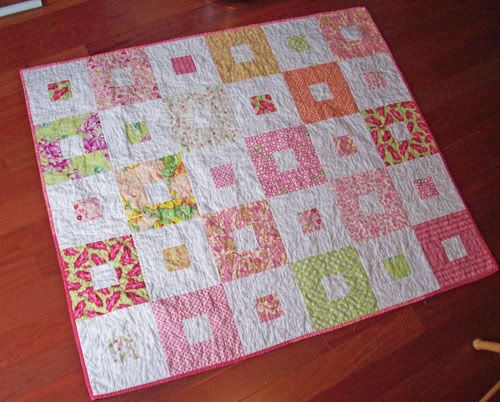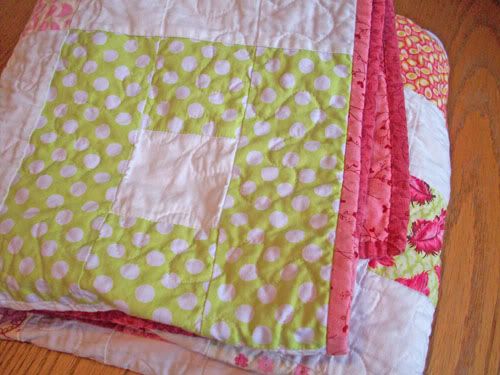 On the back I used more stash, some yardage I have had forever. Same with the binding, it is the leftover of the backing I cut off :D Love it! I stipple quilted it with white thread and it has been washed and dried, all snuggly now.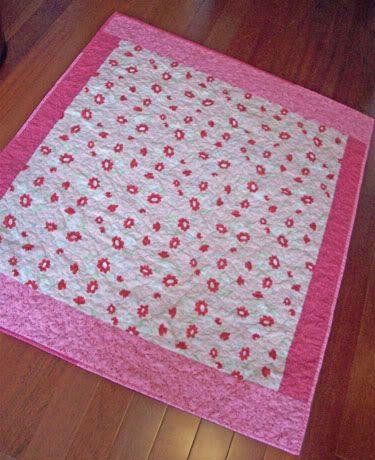 Mark and I have been talking about planning out what the heck we want to get accomplished, like anyone else it is 3 miles long. However, there are a few things that must get done. #1: Our Backyard. We took out our swimming pool last fall. There is a huge gaping crater back there, someday I'll show you all photos… we've already moved 2 huge dumptruck loads of gravel into the hole, and I figure we need at least two more loads to fill it up. Who knew a hole would require so much to fill it in? Then, we plan on putting in a new deck and of course re-landscaping the whole thing. I have a feeling this will be the only thing that we get done, it's a huge undertaking. That is our "family" goal right?
How about my own personal goals? I've already started! I decluttered like crazy again this weekend. It all began with Curren's room. He was in the mood to get rid of a lot of things. There was a lot of toys and a workbench thing that took up a lot of room, it filled up my car! We lifted up his bed, vacuumed under it, dusted, washed windows and made everything look wonderful in there. We worked on Jessie's room a lot too, but I am so not done in there yet. My personal goal, to keep decluttering and get the house organized. We don't have a very big house, so the space I do have I need to maximize.
I have some sewing goals this summer, mostly getting quilts done. I have 4 quilt tops that need quilted and bound. Winter Stars Quilt top, Summer Porch Quilt top, Cowboy Quilt top (this is my friend's I'm quilting for her), State Fair Schnibbles.
The Mermaid quilt is coming along fine, it will be slow going, but that is okay. I love these fabrics, they are super soft.
You think I can do all of this? In between canoeing, hiking, camping and traveling of course. I like to set my goals too high to reach haha!