Today is Tuesday, that means only two more days until school gets out for the kids. Yes, we go until the middle of June… it seems to drag on forever. I was one of those kids who got out at the end of May, to get out of school in mid-June is just plain crazy! My brain has kind of shut down when school is talked about, I am ready for a break.
Last night we went to see The Karate Kid, this new version was pretty good, but way too long, it was almost 3 hours! The kids all got somewhat bored too, the end was good and all, but sheesh. Have any of you seen it yet?
On Sunday I was able to finish the June Schnibbles quilt top, State Fair. No, it is not quilted yet, but I'll get there eventually. I have ADD right now and can't focus on anything, and I am all over the place. This pattern is adorable isn't it? Do you notice the white pinwheel in the pattern? I didn't until I finished the top, duh! Super cute :D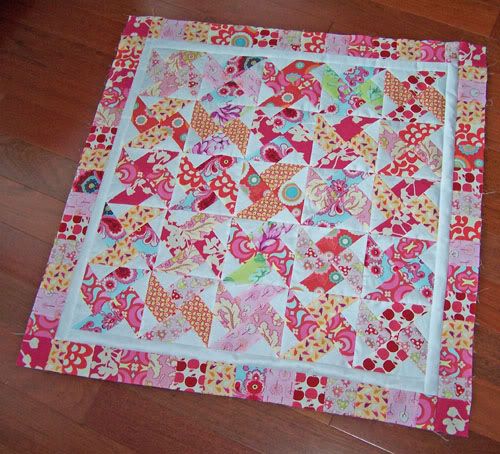 Well my friends, let's see if I can't put my shirt on the right way and remember to change out of my pajamas in the morning… I am like a chicken with its head cut off right now. I hope you all have a good day!