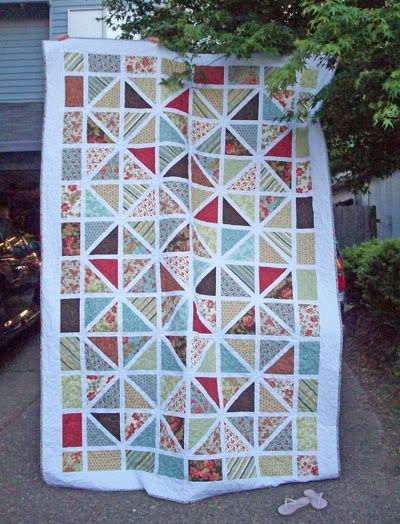 Doesn't this make you want to sit out on a porch with a cold lemonade? This quilt is one of my favorites, it is such a cool pattern. When I first saw this pattern it was in a magazine. There was an ad for some long arm quilting machine and a Summer Porch quilt was draped on a couch, and I thought "oh my gosh, that quilt is so pretty!" some time goes by before I spot it again on somebody's blog and they had the pattern name, woohoo! I found out it was an Eleanor Burns pattern, and bought the book at Joann's.
Can I just say how much I enjoyed making this quilt? Eleanor gives the best and most detailed instructions for making it in a variety of sizes. It had a picture or diagram of every single step, with hints and tips to boot. I love that, it made it a no brainer, and the quilt went together easily. I used the remainder of my fat quarter pack called Shangri La by Moda. I bought it from Nicole (
Sisters Choice Quilts
) sometime ago when she was selling some of her stash. I've made 3 quilts from this fabric now, and I am kind of sad to see it all gone, BUT there is so much more out there to use right?
This is one of the two quilts I quilted on the long arm last weekend. I did not use a panto, I did it free motion stippling (looks like big puzzle pieces, a meandering pattern), with a cream thread on top and dark red thread on back.
In order to take a good picture of a big quilt, you need lots of helpers standing on the back of my truck!
The backing is a soft plaid red flannel. Did I mention I love using flannel for a backing? Okay, I mention it all of the time. I can't help it, it's so soft and warm. I pre-wash my flannel backing before I put it all together, flannel I have found likes to shrink, so I wash it in hot water and dry it hot too. No, I don't wash my regular cottons, ever… it takes too long! Haha!
Regarding the trip I took back in June, I stayed only 9 days, because I had to get back to work, the rest of my family got to stay and play! Lucky them :)