Mark and I went on a date last night. We wanted to get out, even though we were both really tired from the busy week we had. First we went to eat some Pad Thai, it was delicious. We both looked at each other after eating and said "now what??" We started driving towards downtown Portland, and ended up somehow clear at IKEA. So, we made the best of it! We had fun looking at all of the stuff, that place is so huge. We ended up getting some cool decorations for the kid's bedrooms. When we got home from our date we told them if they cleaned their rooms really good they'd get a gift from us, we didn't tell them what we got. Well, today we cleaned and cleaned for hours... I am exhausted! It was really great to get it all done though.
I really want to paint their bedrooms, but it seems so daunting. All of the bedrooms in our house have huge vaulted ceilings, so the walls go up forever and ever. Putting a color on a wall that big freaks me out! Jessie's room needed a new light fixture, and since she has those high ceilings she got a big one. I love this light, it's so super fun isn't it?? It's like 30" in diameter haha!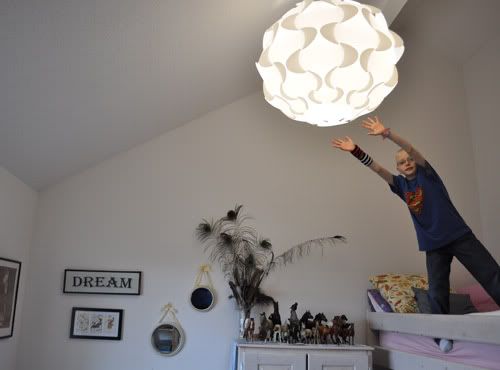 Also in Jessie's room I put up some new pictures on her wall, just because. We went to an artsy show a few months ago, and I picked up the cutest postcards from
Oh My Cavalier!
. Her art was so interesting and pretty. I framed three of our favorites and hung them in Jessie's room. The mirrors I bought a long time ago, and it's about time they were hung.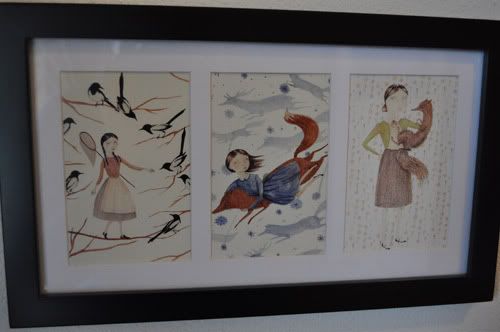 Curren got a new chair, it hangs from the rafter in his room. He sat in it for hours today playing his Nintendo DSi. He was in HEAVEN.
Happy house, happy kids. Life is good.