I joined a Flickr group called StashPact11. They are trying hard not to buy any fabric (or yarn for those knitters out there) for the whole year. You can make your own pact, and write it down over there, and we all help each other to stick to it. It's going to be hard, I'm not gonna lie. I love buying fabric, I am addicted to it I think (I know). So, this will be fun to talk to other people about it, and it'll be even funner to use all that pretty fabric I've got in my house waiting so patiently.
So, in joining this group it has focused me looking at the fabrics I've got, and all of my patterns. I plan to get started on this right away. I've been making piles of fabric and joining them up with patterns that might look good with them… it's soooo fun. There are stacks all over my bedroom right now!
Here is a stack I am loving right now. I want to make a baby boy quilt using these greens, browns and maybe a little orange. I can't decide for sure on the orange, but I kind of like it. I want to do a simple square in a square pattern.
This fabric is for another red/blue/tan quilt. I made one last year and gave it to my coworker. My sister is needing one now too I think. I'll probably do another half square triangle quilt with them, and use a different layout.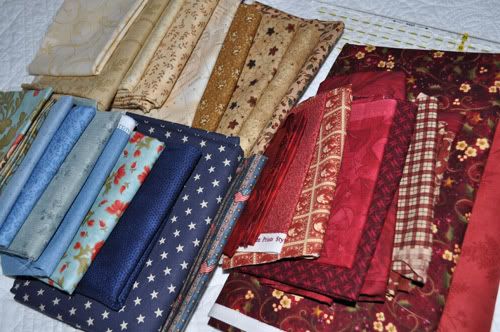 And this pretty jellyroll I want to use and make this quilt from the Jelly Roll Quilts book I am constantly drooling over.
Then there is the quilt from Elizabeth Hartman's book I am loving. I have a lot of fabrics that would look adorable with this pattern I think…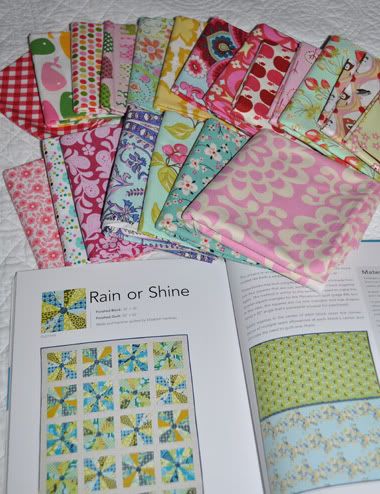 But what about my Rural Jardin Fat Quarter bundle? Cathy is making a quilt using these fabrics, which led me to commenting on how pretty it was, which led her to commenting back that I should use mine and we could sew them together… which is leading me to wanting to start this quilt right now. *edited to add* The pattern is called Stella Blue and is by Miss Rosie's Quilt Company :)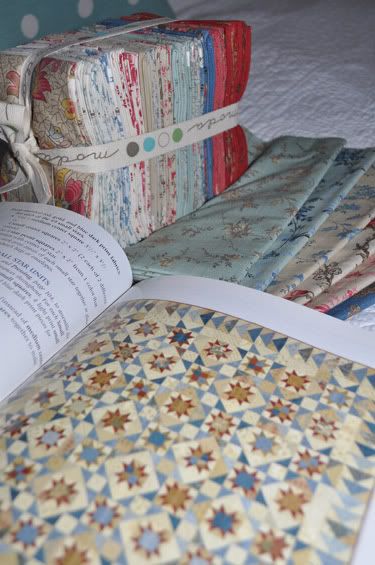 This is too fun isn't it? Now you go to your stash and do the same, you'll love it!