The

Portland Modern Quilt Guild

meeting last week was so much fun.

Barbara and I rode together, it's so nice to have somebody to drive with!

We saw a lot of gorgeous quilts, learned all about color, and had a good tutorial using glue basting, which I am going to try soon with my Single Girl Quilt.

It is always great to go to these meetings, so those of you who live in the Portland area should really come to them!

I

n other news, Jessie and I are working on an "I-Spy" quilt for her little cousin. I bought a package of 6" novelty squares from The Center Diamond in Cannon Beach about 3 years ago, and they have just been sitting in my stash waiting patiently. Jessie laid out the squares by herself, and pieced and ironed everything, look at her go! I am going to quilt it for her, she said she wants it to have the squiggly quilting with rainbow thread on top. How cute is she? So, we basted it the other day, here she is hard at work.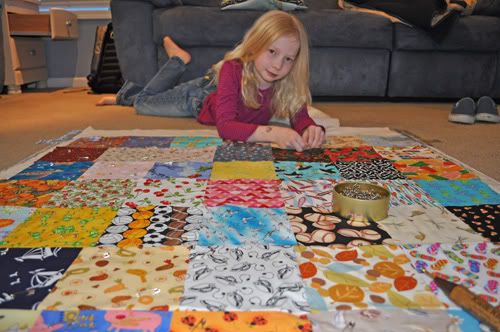 I started working on a new quilt, I always like having a dozen things going on at once to be creatively happy. So, I pulled out my Martinique Jelly Roll and started the pattern Garden Trellis in the Jelly Roll Quilts book. It's the first time I am actually using this book, I've been drooling over the patterns for a long time now.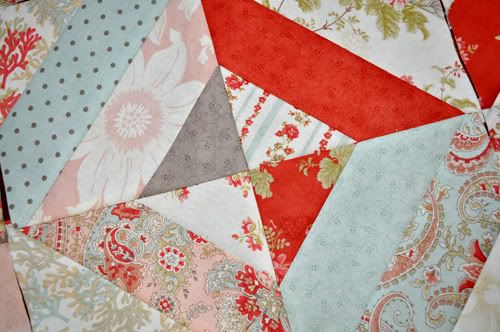 Martinique is an amazing fabric line, the colors are gorgeous. There are aquas, pinks, reds and a nice gray color. It was fun putting this together. I am halfway done getting the blocks sewn together.
It is supposed to snow today, you know Portland, it just rains most of the time, so snow would be fun.