First off, I want to say thank you to everyone who has left such nice comments about the Hexagon Quilt on my last post. You are all so nice! I love that you can appreciate the work that goes into a quilt and how beautiful they are. Your comments make me want to go out and try more things, you all inspire me, so thank you. Blogging is sure fun isn't it?
So, I am a month into - Stashpact11 - buying no fabric. *shock! gasp!* That's pretty good I think. For one thing I've been pretty busy, so the quilting time has been cut back a bit, which makes me not want to buy anything anyway. When we get a few months into the year will be when it gets hard! Usually after I finish things I tell myself I deserve more fabric… pshaw! I do not!
I had pulled several greens, tans and orange fabrics from my stash last month. I wanted to make a smaller quilt with them for a boy. So, I remembered the tutorial on Oh Fransson! I have loved this quilt, and the wonky blocks, they are so cute. I've never made a wonky block in my life, so this was pretty fun to do. Her tutorial makes it very easy. And you really don't use much fabric. So, I still have a large pile of leftovers :)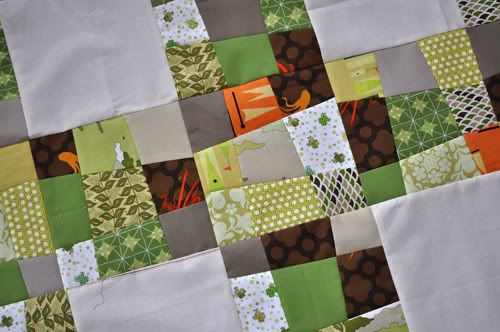 I wanted a nice tan solid for the background blocks on this quilt, I was worried I wouldn't have any. I didn't want to buy fabric… Why do I worry? Of course I had some, not like I remembered or anything :)
The backing will have to be pieced, I have 4 blocks leftover I can use, and a solid green I found. The binding will be orange :) This is a quick and fun quilt to make, go give it a shot.
Next up?? The New Wave quilt I started forever ago using those sweet mermaids…